A few days ago, on Monday 1/9 represented 22 years since the fire onboard Superfast III, now known as Spirit of Tasmania II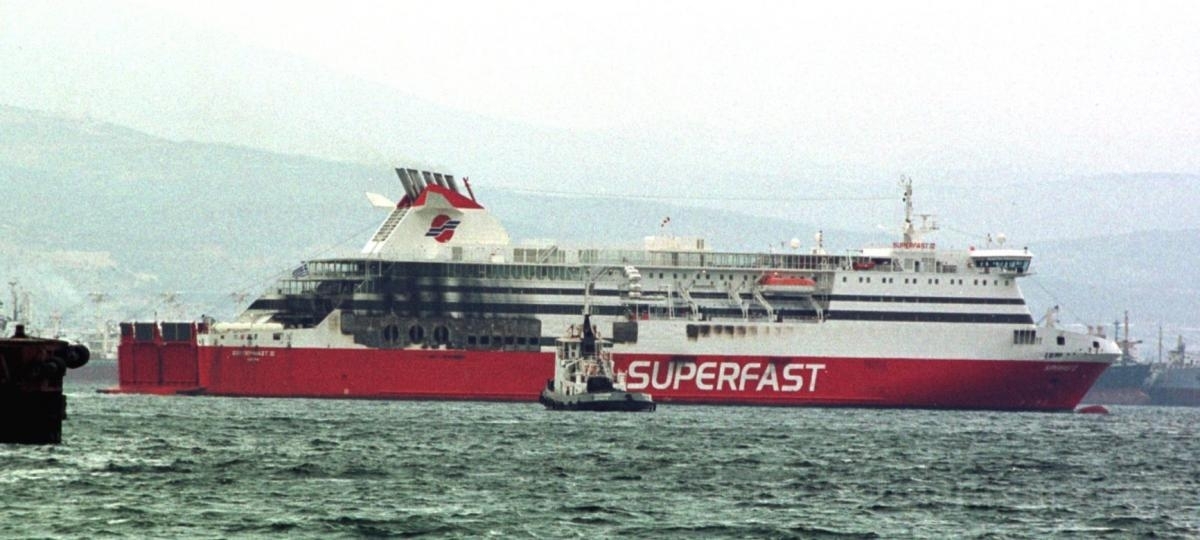 Tempo news 24 reported on this back on the 20th anniversary.

It has been 20 years since the day of the fire on a ship off Patras that claimed the lives of 14 immigrants who had been hiding in its hold.
The media wrote about the naval tragedy:Shortly before 9 pm on November 1, 1999 and while the passenger "Superfast III" with 307 passengers and 106 crew members was sailing 12 nautical miles from the port of Patras, a fire broke out in the ground floor garage . Passengers and crew boarded safely on other ships that had arrived for help, but from the beginning Coast Guard officials expressed concern about the possibility of illegal immigrants being found in trucks. Their fears were confirmed when the men of the Fire Brigade, after controlling the fire, located 14 Kurdish dead, who had gotten into trucks bound for Italy.The fire, according to estimates, appeared to have come from gas cans, which had been used by illegal immigrants in a truck. However, in the final conclusion, six months later, the experts pointed out that in addition to the gas leak and the short circuit in one of the refrigerated trucks, the most probable causes of the fire.
Odysseas Xerizotis: An experience that will not be forgotten …
The well-known father Odysseas Xerizotis in a post on the internet describes what he lived two decades ago. Specifically, it states:
Like today 20 years ago. An experience that is not forgotten that I lived with my colleagues while working at the shipping agency Superfast Ferries Th. Filopoulos – K. Parthenopoulos SA in Patra .
The "Superfast III" sailed, on November 1, 1999, at 8 pm, the ship from Patras to Angona, loaded with 73 cars and 107 trucks. There were 100 crew members and 308 passengers on board. The fire broke out. at 8.40, in the garage number 5 of the ship on the right while the ship was off the coast of Messolonghi. The passengers and crew boarded the lifeboats safely and were picked up by floating ships. The ship arrived, the next day, in Patras, with the assistance of tugs and during the unloading, the 14 dead migrants were discovered.
The readiness and response of the company (agency, crews, compensation…) to the needs of passengers and drivers was beyond their expectations.




Superfast III was repired at Bloom + Voss ship yard in Hamburg, Germany. During the repairs 900 tons of steel, 70km of cable was replaced, also the internal tilting MacGregor ramp between decks 3 and 5 was replaced. A considerable amount of hydraulic systems had to be repaired, Some public spaces needed to be refurbished due to damage also . The cost was approximately USD $26 million. The work took 76 days.