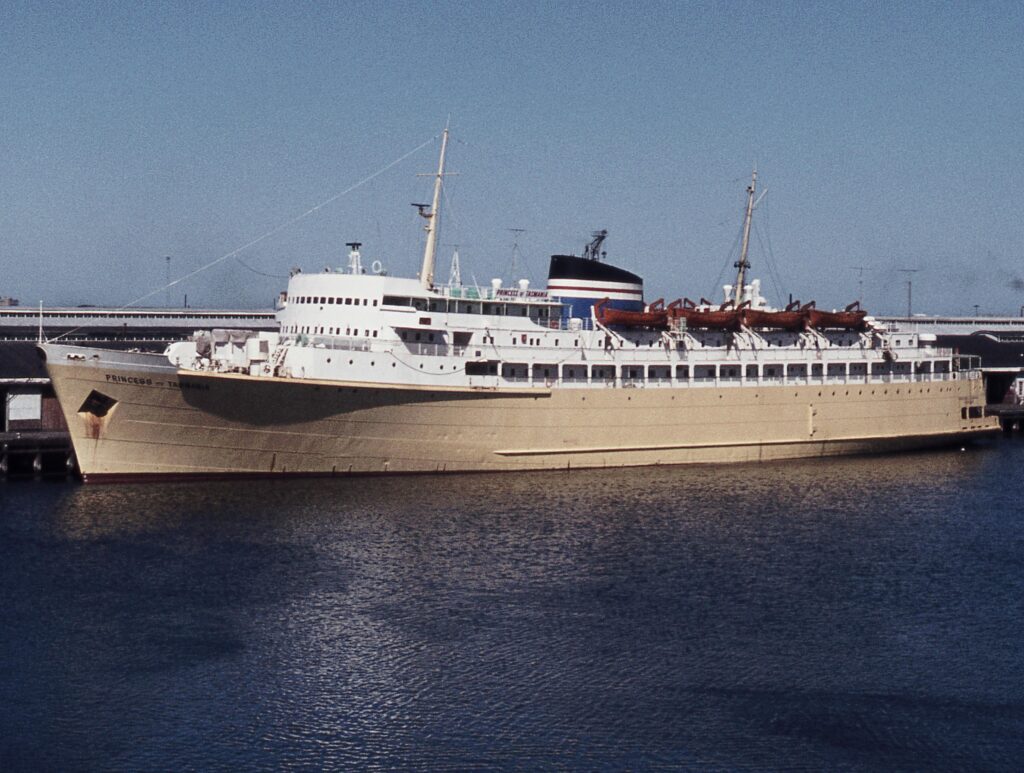 Builder: The NSW State Dock Yard, Newcastle Australia.
Year of build: 1959
Ship yard number: 61
IMO Number: 5284986
Call sign:VKVG
Length: 113.32m.
Width: 17.73m
Daft: DWL3.69m / Scantling4.78m
GT/NT/DWT. 3,964t/ 3,703/ 1073t .
Main engines. Two 9-cylinder NOHAB Polar M69TS diesels.
Power rating: 6326 kW.
Gear ratio: 225 RPM Direct drive
Service speed: 17.75 knots (max 19.25 knots)
Passengers capacity: 334.
178 beds in 73 cabins and 156 recliners
Cars: 140
Trailers:N/A
Total Lane meters: ?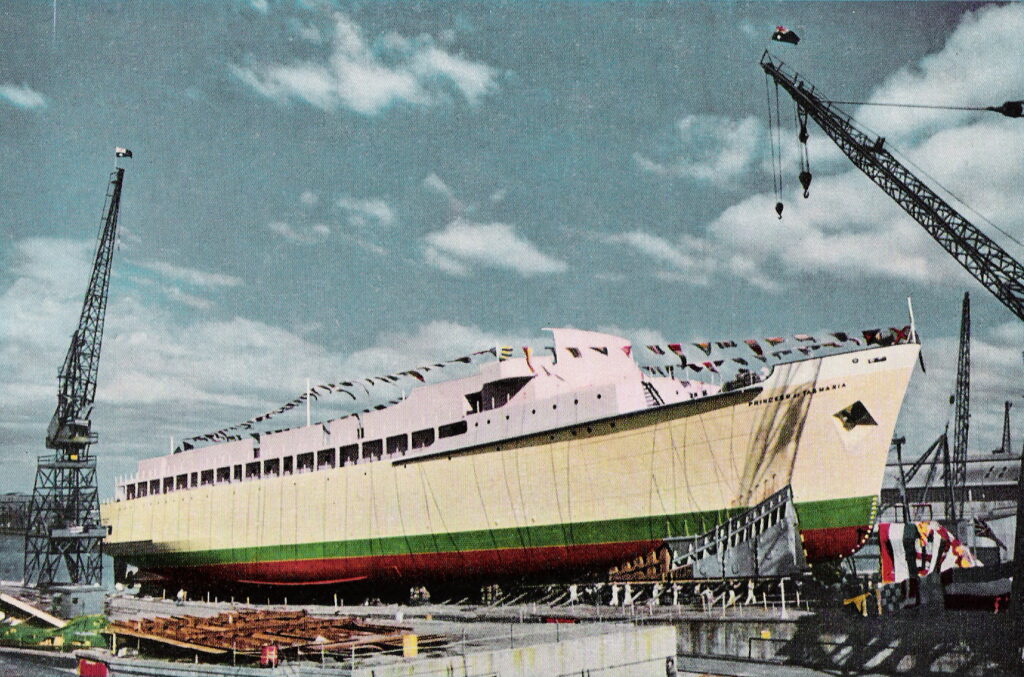 Princess of Tasmania sailed on the Bass Strait between 1959 and 1972. She was built at The State Dockyard of New South Wales in Newcastle. Her keel was laid on 15/11/1957 and she was launched down the slipway 15/12/1958. 20/7/1959 she departed Newcastle for the first time on sea trials, calling at Sydney harbor on her return to Newcastle. Princess of Tasmania was handed over to the Australian National Line on 14/9/1959 in Newcastle. She departed three days later and headed to Circular Quay in Sydney where she stayed for two days, open days were held for the public to come aboard and inspect the vessel.
On 20/9 she departed Sydney bound for Melbourne, arriving the next day.
23/9 she departed Webb dock in Melbourne with some VIP's onboard for Tasmania, hugging the coast off Burnie for locals to see their first glimpse of the vessel. She arrived in Devonport mid-morning and remained moored there for a few days. On the 26/9/59 a ceremony was held for the opening of the new terminal, constructed especially for the Princess in East Devonport. Then premier of Tasmania Eric Reece officially opened the terminal, named the Sir Robert Cosgrove terminal. A public open day was held for locals to inspect their new ferry.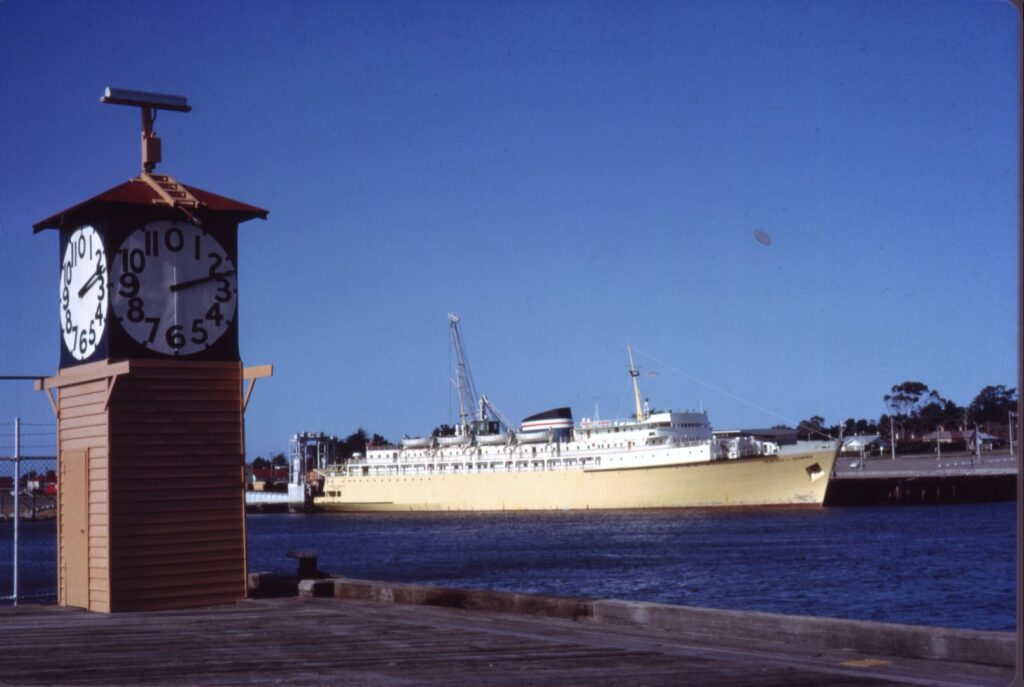 Princess of Tasmania departed Devonport and sailed back to Melbourne in preparation for her first commercial voyage, which took place on 2/10/1959 at 8pm, officially replacing the Steam ship Tooroona.

The Tasmanian steamers had operated the Taroona on the Melbourne to Tasmania line since 1934. She only had a cargo hold capable of holding 30 cars, which were required to be craned aboard. By the 1950s Roll on/Roll off ferries were beginning to become popular in Europe as more and more people were able to afford their own car. Tasmanian steamers had approached the Tasmanian and Australian Governments asking for funding toward a Ro/Ro ferry to be build, but to no avail. In 1957 Tasmanian steamers announced they would be withdrawing from the Tasmanian ferry business altogether.
In October of 1957 the Australian Government announced their shipping line, Australian coastal commission would build a ferry take over the line.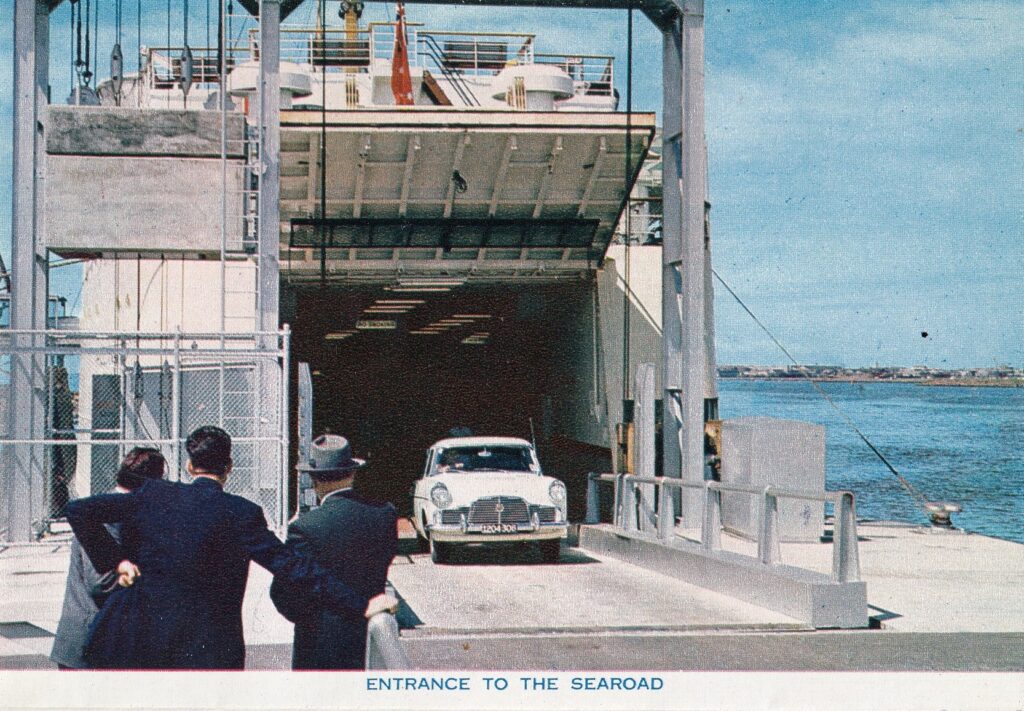 ANL spent some time investigating how best to spec their new ferry, they sent their chairman to Canada to inspect the newly delivered Ro/Ro Ferry Princess of Vancouver who was built by Alexander Stephen & Sons, Glasgow in 1955. It would appear Princess of Vancouver was used loosely as a reference vessel, as there are some similarities between the two vessels, not least of all the lines, and indeed the name. ANL also engaged Alexander Stephen & Sons to do hull testing for the Princess of Tasmania.
They sent an engineer to Europe to investigate propulsion options.
Princess of Tasmania was very advanced for her time, with features such as fin stabilizers, by Denny-Brown, bow thruster by Voith-Schneider . Indeed many of the technologies used onboard were first of their kind to be fitted to a ferry.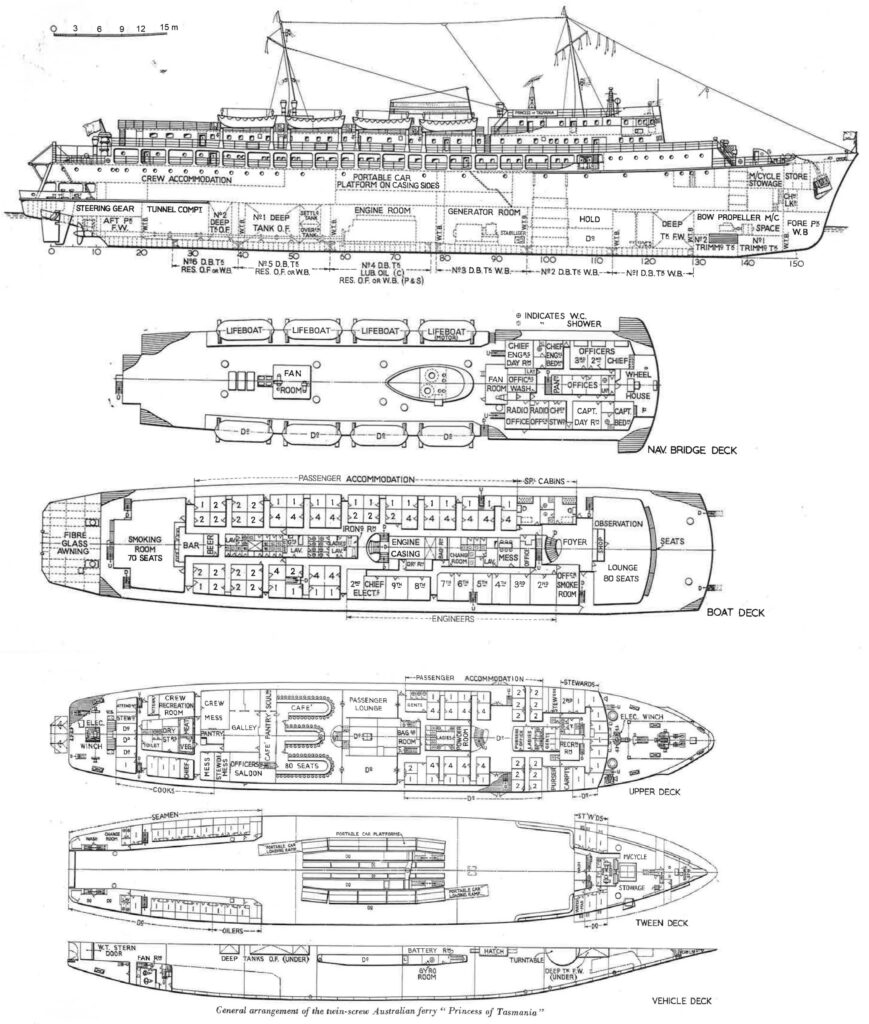 Her engines made in Trollhättan Sweden by NOHAB were Polar M69TS which stands for: M=Marine, 6=upgrade #6, 9=number of cylinders, T=model T, S=supercharged.

The engines were directly connected to the propellers and spun at 225-250RPM
She had a capacity of around 110 cars on the main garage deck or 550 tons.
100 tones of general cargo in the lower hold, or 6 cars and 11 cars on the lowest deck which were lowered and raised on a lift. The car deck featured a power-operated turntable so that vehicles could be turned around and drive off because she had no bow door.
She was also fitted with three portable platforms that could be attached to the centre casing that allowed an additional 15 cars to be carried. All up she had capacity for 140 cars.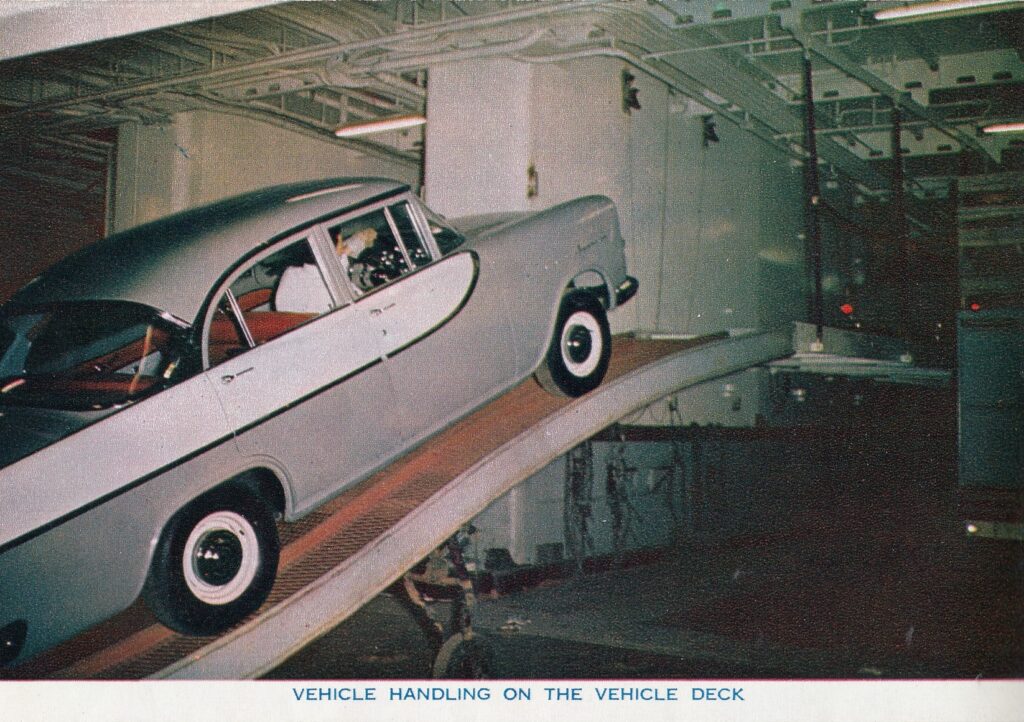 Passenger capacity was 334, 178 beds in 73 cabins. 26 Single berth, 27 two berth, 18 four berth, 2 suites and 156 recliners in two lounges located one on each side of the funnel. The bigger saloon was at the front of the ship behind the full-width deck. They were decorated in Laminex on the bulkheads and wall-to-wall carpet. A cafeteria on the upper deck seated 82 in swivel-type stools at thee U-shaped rubber-topped tables. The Princess of Tasmania carried a crew of 67 including the master, three mates, chief engineer and ten engineers.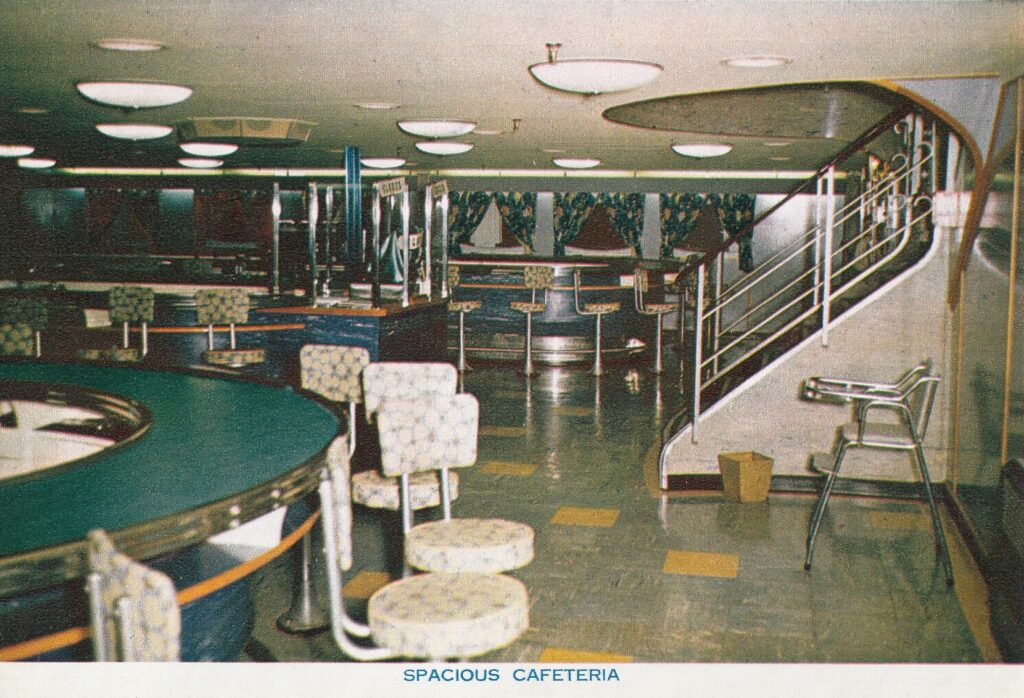 Crew accommodation was as on all Australian ships quite good. Seamen and Oilers were accommodated on a mezzanine deck, where the cabins were off the the sides, occupying the aft end of the car deck space. Stewards were accommodated on the main passenger deck, (Upper deck) with engineers accommodated on the fore end of the next deck up (Boat deck) and officers, Chef Engineer and Captain on the upper most deck. (Bridge deck).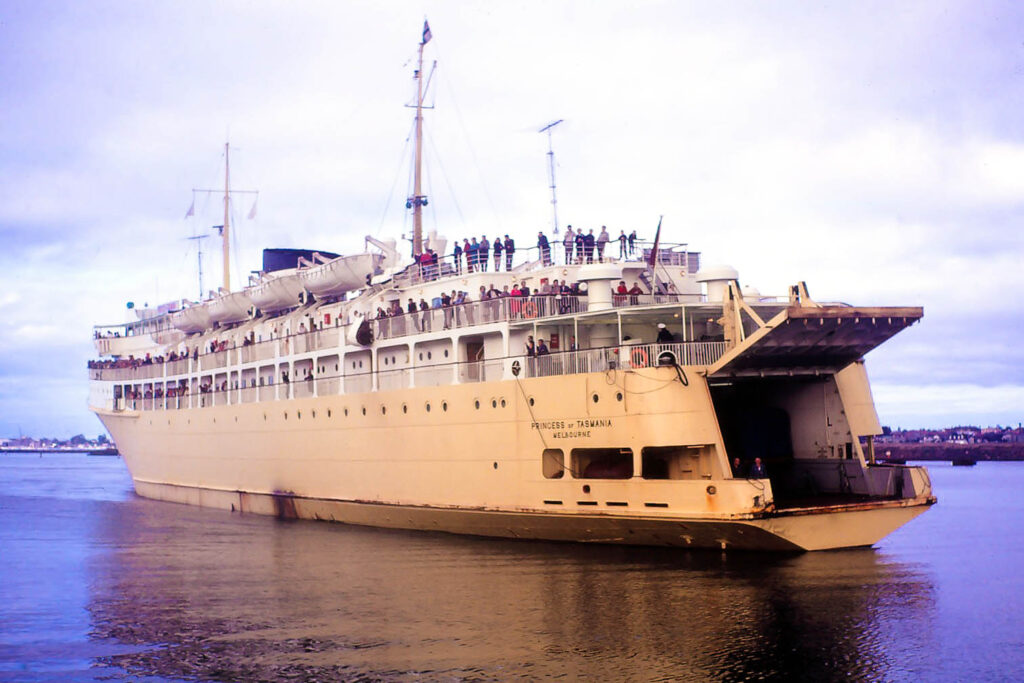 Princess of Tasmania quickly became very successful, but had limited ability to carry trucks, so ANL ordered a Ro/Ro fright ferry, Bass Trader in 1960. The Bass Trader was 104m long with a GRT of 4,129t. She carried heavy vehicles, allowing the Princess to be filed with passenger cars.
The princess of Tasmania maintained a reliable schedule over her 13 years of service, but as many ferries of the strait, she became a victim of her own popularity.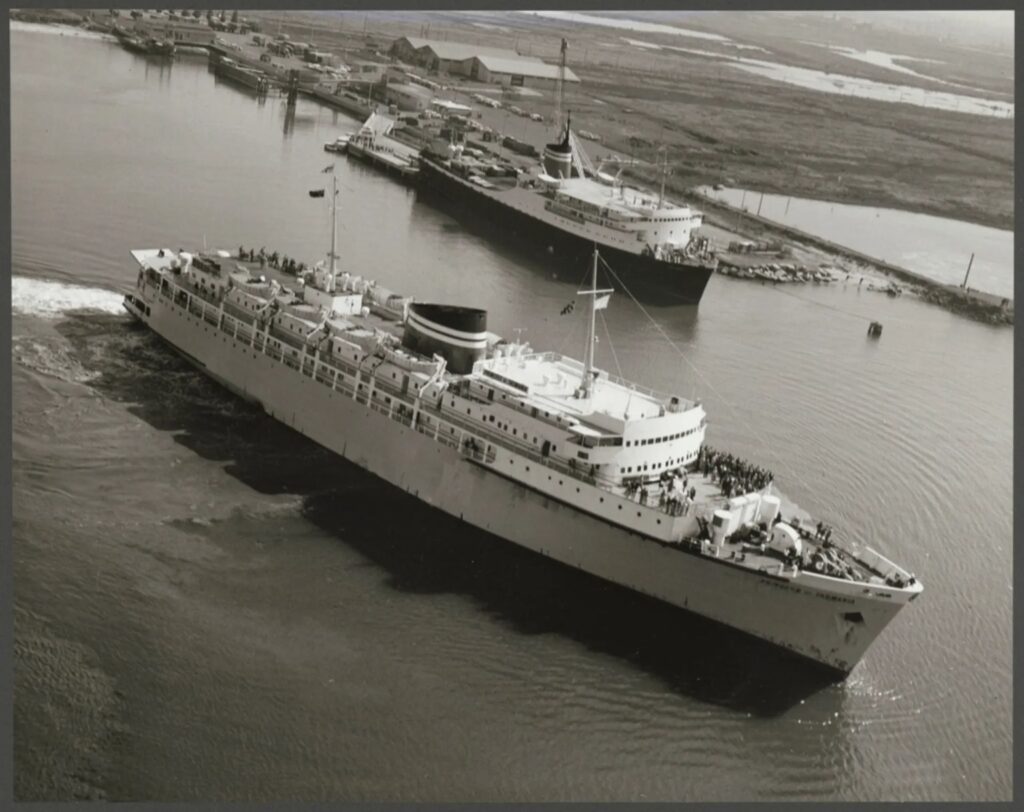 In 1972 ANL (Australian national Line) announced a reshuffle of their ferry fleet. The Australian Trader was to be taken off the Melbourne to Tasmania route and replace the Empress of Australia on the Sydney to Bell Bay/Burnie route. Empress of Australia would then in turn replace Princess of Tasmania on the Melbourne Devonport route and the Princess would be sold.

On the 27/7/1972 Princess of Tasmania departed Devonport for the final time, farewelled by thousands locals who lined the banks of the Mersey River. The next morning, she arrived in Melbourne for the last time, completing her 3,886th voyage. She was laid up awaiting a buyer.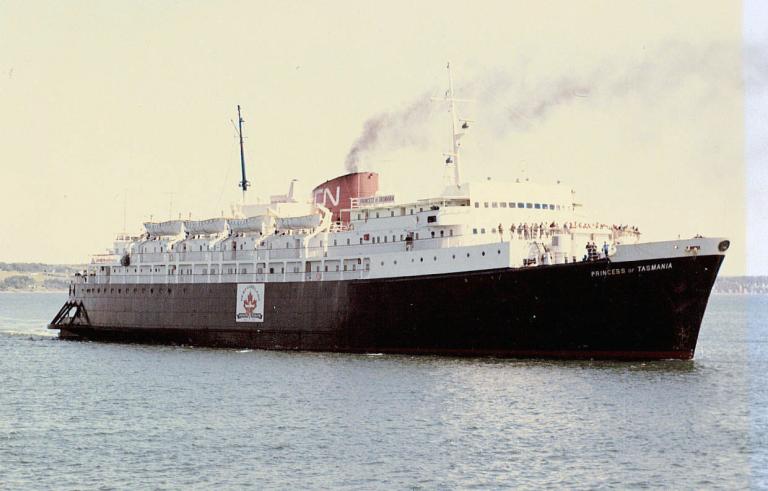 Princess of Tasmania was sold to Bahamian based Bahamarine Limited with an agreement to charter her to Canadian national railways. She left Melbourne for the final time on 7/10/1972 bound for the east coast of Canada. She crossed the Pacific Ocean and Panama Canal. She was charted to CN Marine (Canadian Railways) to help address limited capacity on North Sydney (Nova Scotia) to Port aux Basques (Newfoundland) route initially, then on Yarmouth (Nova Scotia) to Portland (Maine) route. Her name remained unchanged for a few years, until 1975 when she was renamed Marine Cruiser. She maintained a summer schedule being laid up in the winter. In September 1977 she was sold to Rideau Shipping Co. Ltd of Canada, and continued to be chartered to CN Marine.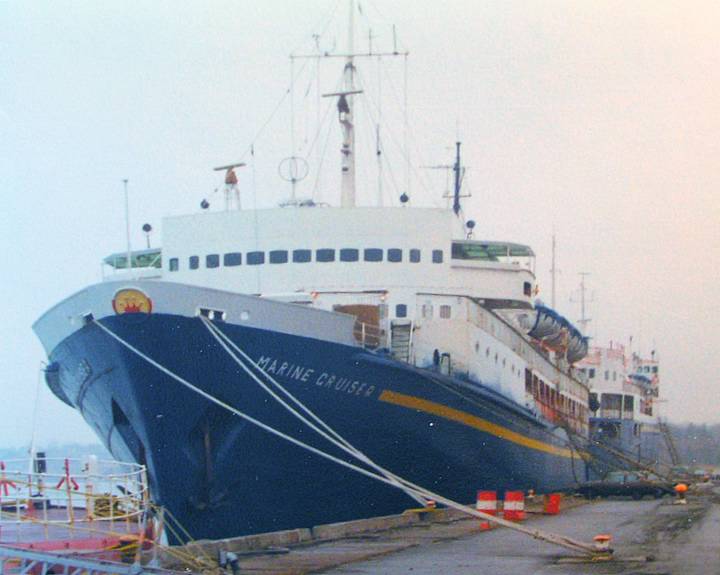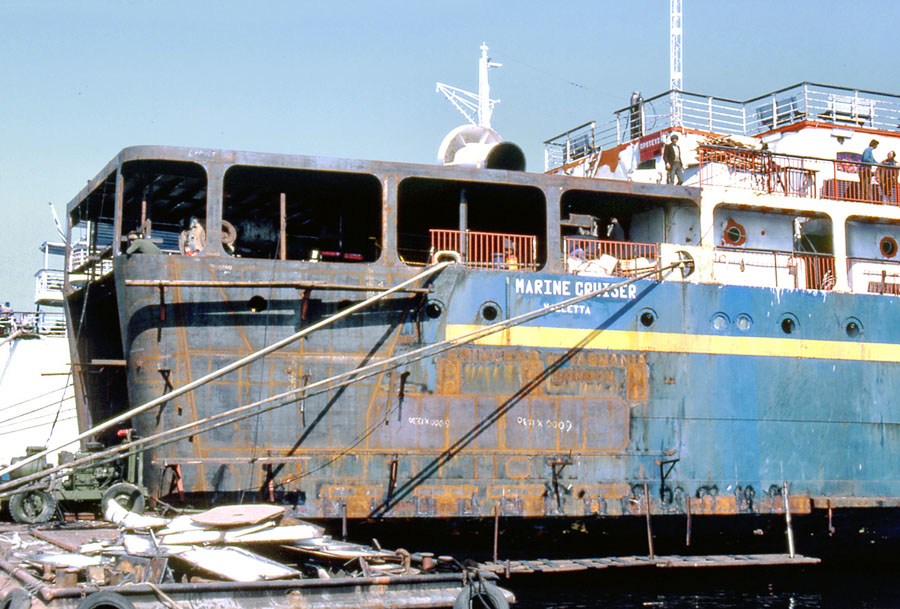 In January 1984 Marine Cruiser was sold to Maltase based Dolphin International Shipping . She departed Canada and crossed the Atlantic Ocean for Greece, arriving Perama for refit and modification works. The works included things such as fitting Air Conditioning, new self service and Ala-carte restaurants, bar, disco Duty free shop, Pool, Casino and arcade video machines. One of the main things done though was a rebuilding of the stern. She was renamed Majorca Rose.
25/5/1984 she was placed on a route from Port Vendres (South west France) to Port d´Alcudia (island of Mallorca) The route was unsuccessful, so the Majorca Rose sailed back to Piraeus Greece, where she was laid up. In September of 1984 she was sold to Equator shipping of Malta and renamed Equator. She remained laid up, and was sold again in October, this time to Comeret, subsidiary of Progress Marine Ltd., Malta and renamed Nomi. Its unclear if the vessel ever traded under this ownership because by early 1985 she was sold again.
This time to Adriatic Ferries of Malta, renamed Adriatic Star.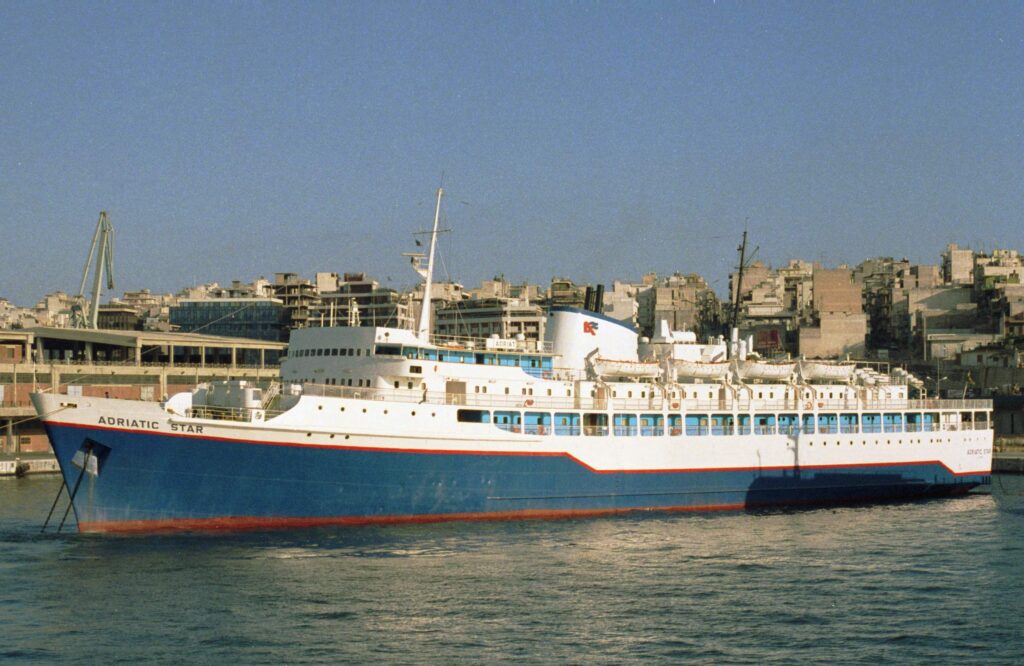 Adriatic Star sailed on the Greece-Italy routes of Patras – Kefalonia – Corfu – Brindisi from 1985 to 1987. At the end of which, in September of 87 she returned to Perama to be laid up.
In early 1988 she was sold to Menik Maritime Pte of Colombo, Sri Lanka. She remained laid up in Perama though.
Some months later she was sold to Traghetti delle Isole of Trapani, Italy, renamed Lampedusa.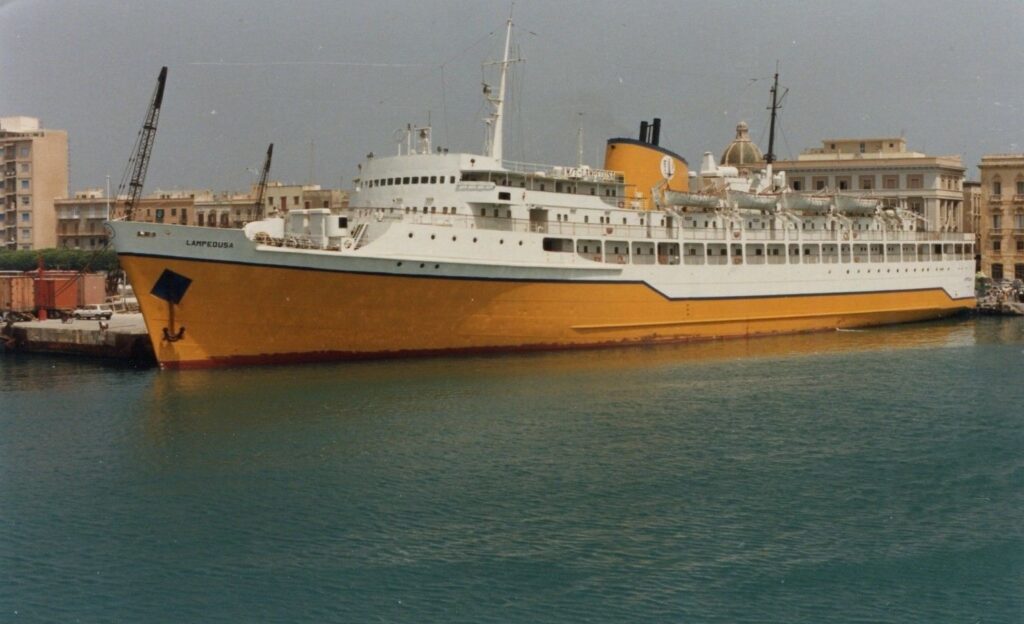 Lampedusa was placed on the line from Civitavecchia (Rome) – Ustica (Italian Island) -Trapani (Sicily) – Pantelleria (Italian Island) from 1988 until early 1991.
Lampedusa was sold in April of 1991 Fayez Trading & Shipping Establishment, Jeddah, Saudi Arabia for service in the Red Sea, Suez- Jeddah (Mecca) renamed Shahd Fayez. She was used on the Haj pilgrim trade from Egypt to Saudi Arabia. Also a big part of this trade was carrying Egyptian labourers to Saudi Arabia. The reason why the ferries were so popular was because the labourers were allowed to bring as much luggage back with them as they could carry. Consumer goods are much cheaper in Saudi. The airlines wouldn't allow them to bring fridges, TVs, etc as cabin baggage, so the old Princess was ideal.
She remained on this line for one season, once again sold, this time to Al Mahar Marine Co. Jeddah, Saudi Arabia renamed Al Mahrousa and remained on the same trade.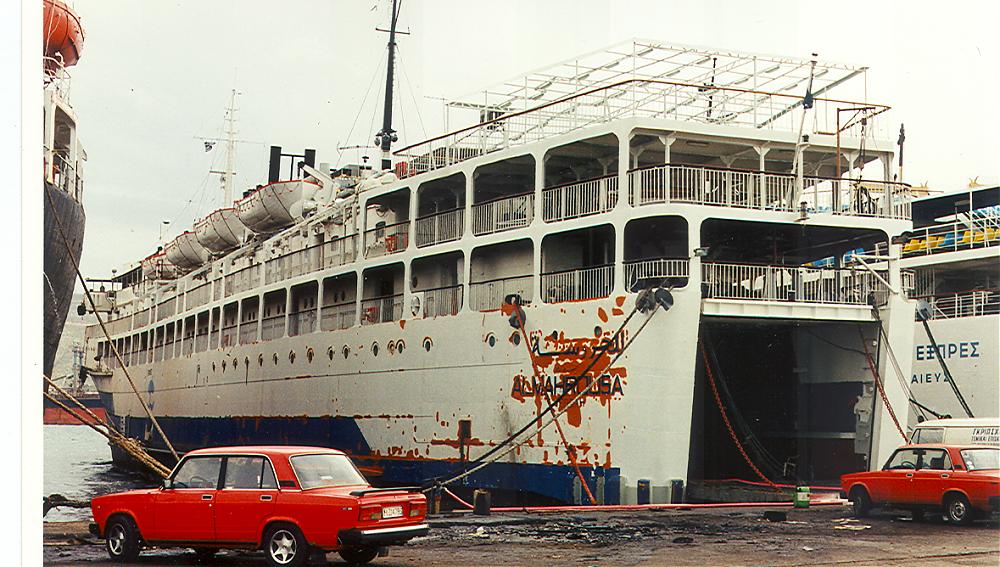 In 2000 she was sold to Nouran Navigation of Cairo, Egypt. She stayed on this line until early 2005 when she was sold to breakers in Alang India. She made the final voyage under her own power, arriving in Alang on 30/3/2005 to be broken up.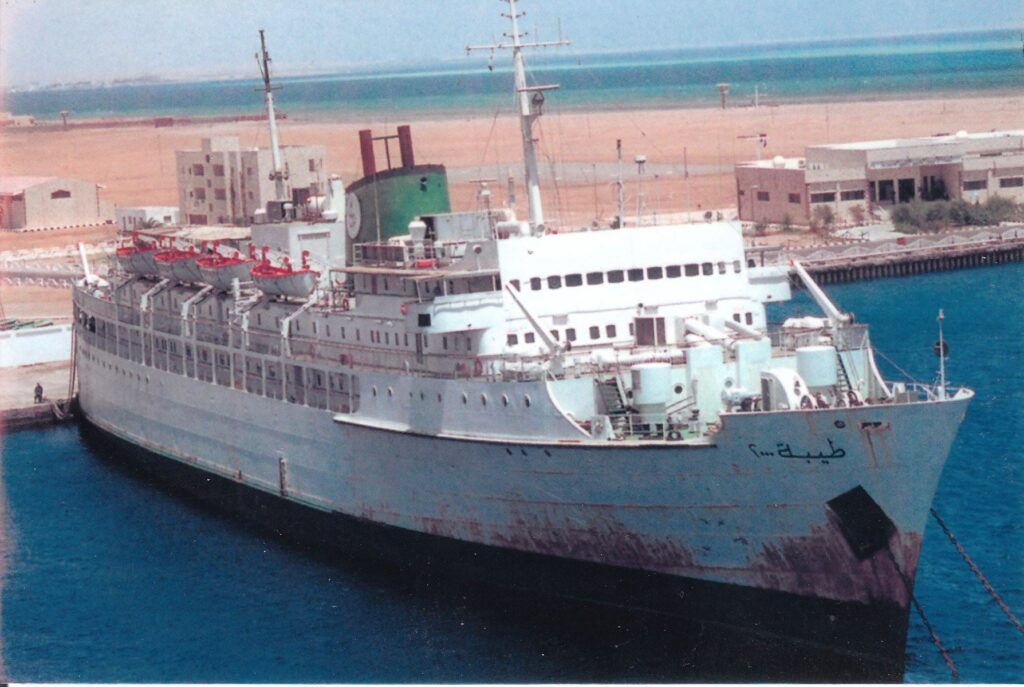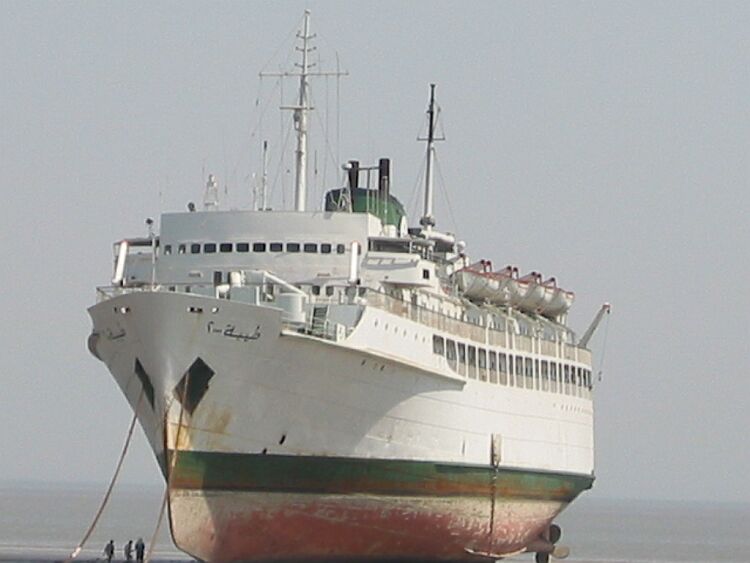 Gallery