Builder: Werft Nobiskrug, Rendsburg, West Germany.
Year of build: 1975
Ship yard number: 682.
IMO Number: 7362108
Call sign: VLAT
Length: 148.90m.
Width: 23.50m
Daft: DWL 5.5m/ Scantling 6.1m
GT/NT/DWT. 19212t/ 7922t/ 3472t .
Main engines. Two B&V Pielstick 16PC2.5V diesels.
Power rating: 15,298 kW.
Gear ratio: 520rpm to 242 rpm (Max)
Service speed: 17 knots (21 Knots Max)
Passengers capacity: 855 beds.
Cars: 220
Trailers: 25
Total Lane meters: ?
Abel Tasman sailed on the Bass Strait between 1985 to 1993. She started life as the Nils Holgersson, built in 1975. Being the third ferry of her owners to bear that name. She was constructed by Werft Nobiskrug, in Rendsburg, West Germany. She was the second ship in a pair of sisters built for TT-Linie, the first being Peter Pan. TT-Linie (Travemünde – Trelleborg Line) began operations in 1962, Linking Travemünde, Germany with Trelleborg, Sweden with a ship named Nils Holgerson, of 1962.
The Nils Holgersson's keel was laid on 12/2/1974 and was launched on the 26/10/1974. She was delivered to her owners the following year on the 8/4/1975. Before entering service on her regular route, she made an inaugural cruise, sailing from Travemünde to Gothenburg, Oslo and Malmö.
On 20/4/1975 she commenced her regular route, linking Travemünde to Trelleborg. Nils Holgersson, along with her sister ship, Peter Pan represented a major upgrade in capacity, comfort and amenities to the ships they replaced, bearing the same names.
One thing that set Nils Holgersson apart from her sister ship Peter Pan, was the addition of fin stabilizers. The reasoning behind this was TT-Linie had intended to use Nils Holgersson on cruising duties during a few of the winter moths, when the Germany-Sweden route was somewhat quieter, being substituted by a smaller ferry of the company. Nils Holgesson sailed on several cruises over her career. It is rumored she did a 17-day Caribbean and Transatlantic cruise from for her first chritmas, but its possible that this was indeed to the Canary Islands, where she went several times in the following years. In the 1976/77 Christmas period she did a 17-day cruise to the Canary Islands with stops in Spain, Portugal. This cruise was from 30/12/1976 to 16/01/1977 and again at the turn of 1977/78 ,1978/79 and 1979/80. Her last cruise was in late 1980, but to the cold Norwegian fjords this time. It was even possible for the passengers to take their own car in the garage deck, and go exploring whilst the ship was in port. She would then resume her normal schedule in February for the holiday makers bound for the ski fields of Austria and southern Germany.
By 1980 cruising outside of their regular trade for TT-Linie had unfortunately stopped, focusing on the Travemünde – Trelleborg which was increasing in patronage.
Although numbers of passengers and freight was increasing, there was still overcapacity on the line with its competitors. They teamed up with a Swedish competitor, Saga Linjen in 1978 to have a joint time table and new partnership brand on their ships, TT-Saga-Line, which was applied to Nils Holgersson in January 1981.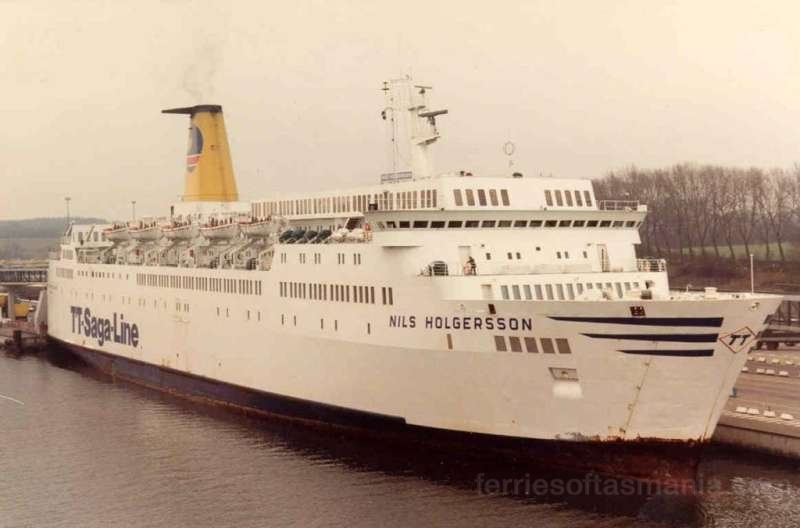 In the June of 1984, ANL (Australian National Line) announced they were departing the passenger ferry sector the following year, to focus solely on their cargo ships, sailing internationally, and domestically. This left the Tasmanian government to take over the service. The federal government agreed to pay for a ferry, in part compensation for blocking the Tasmanian government from damming the now, world heritage area of the Franklin River, for hydro electricity power generation.
The Tasmanian government's department responsible for transport (Tasmanian Transport commission) sent representatives to Europe to inspect tonnage that might be suitable for the Bass Strait trade.
In August of 1984 Tasmanian Transport announced they had selected Nils Holgersson of the TT-Saga-Line. The cost was DM46.5 million, the exchange at the time was AUD $19.150 million, with the modifacatons costing DM7.1 milion about AUD$6.7 million . It also came with an option to buy her sister ship, Peter Pan in 1987. But unfortunately this option wasn't taken up, and she was sold to Minoan Lines of Greece and became Fedra. Nils Holgersson competed her final sailing on for TT-Saga -Line on 18/9/1984, before sailing down the Kiel canal, back to her builders yard, Werft Nobiskrug. She was 7 months at the yard, undergoing modifications, renovations and reconditioning of her machinery. One major modification was,of course, the large "box" like structure to be constructed on her aft. The purpose of this was to house her Australian crew, as the Australian maritime union require each crew member to have their own cabin, with en-suite and window. The Nils Holgersson's crew accommodation was originally down below the car deck.
Other works included major overhaul work to all the ships engines, and machinery. The ship was found to be in very poor condition in the machinery spaces, having to replace the entire block of one generator engine and rebuild all the other generators and two main engines. Australian engineers even found mattresses in the engine room, suggesting the Filipino sailors had been sleeping close by, to be on hand to attend to trouble with any run down equipment. Because of all the extra work to be done, the works went over budget.
On the 20/4/1985 the Nils Holgersson, now renamed Abel Tasman was officially handed over at a ceremony onboard, to the shipping division of Transport Tasmania commission, now known as TT-Line.
Abel Tasman Departed Rendsburg the next day, but some of the stewards were very unhappy with the situation onboard. They had not been allocated their own cabins in the crew block, so went on strike and started a "mutiny" onboard. The captain and senior crew were fearful for their safety and decided they could not proceed. So she proceed to Kiel where she was laid up. The senior crew had been instructed to order the crew off the ship, but the union had ordered the crew to stay with the ship, or she may never get to Tasmania, and thus no jobs for them. At first, they tried to get West German Police to evict the crew, but were unsuccessful, because the ship was flying the Australian flag, and under Tasmanian registry. The senior crew even blacked out the ship (Shut down the power and A/C) to try and get them off. The Tasmanian government sent officers from Tasmania Police to join the ship. Once they arrived, they too were powerless, because the ship was in West Germany. It was decided to fly majority the crew home to Australia and one week later fly them back to Germany, minus the agitators. Some of the behavior was considered criminal, but I don't know if they were charged, and it should be noted it was only a few bad crew, most just wanted to sail the Abel Tasman to Tasmania. Finally, on the 18/5/85 the Abel Tasman departed Kiel bond for Tasmania.
I won't go into the delivery voyage here, because I have devoted a whole page to it. Delivery voyage of Abel Tasman from Germany to Tasmania.
Abel Tasman arrived in Devonport on 20/6/1985, just before midday. Thousands of people came out to see the Abel Tasman arrive, it was a very big occasion for the people of Tasmania to see her arrive, thousands of people turned up to see the large German ferry arrive for the first time . Due to the troubles that caused the delay of over a month, Abel Tasman didn't go via Brisbane and Sydney for promotional visits as has been planned, but instead went strait to Devonport, to have some final fitting out before entering service 9 days later. During the delivery voyage some German crew from TT-Line of Germany, had sailed with the ship from Kiel. A few technicians had got off in North Eastern Africa, but Nils Holgerson's former Captain, Rudolf Schonfeldt had come all the way from Germany with the Abel, as an advisor. He sailed on for a few voyages after entering service between Devonport and Melbourne.
The Robert Cosgrove terminal in East Devonport was expanded to two stories, with a gangway to connect to the Abel Tasman. Also some works to the link span were made to accommodate the ship. The improved terminal was re-opened as part of the arrival celebrations, with officials, including Transport minister Ray Groom and Abel Tasman's captain, Colin James who had just arrived with the ship from Germany.


On 29/6/85 Abel Tasman departed Devonport and sailed overnight to Melbourne to begin operations. She berthed at Station Pier, the first time a ferry had ever birthed there. (previous ANL ferries docked at Webb Dock to the west) Since the ship had been purchased, works to install a link span and other infrastructure had been underway in preparation for Abel Tasman. She was the first ferry in Australia to have bow and stern doors.
On 1/7/1985 at 18:30 she set off from Melbourne on her maiden crossing to Devonport, arriving around 08:30. Her schedule was to depart Melbourne 18:30 Mondays, Wednesdays and Fridays and from Devonport at 18:30 Tuesdays, Thursdays and Sundays, with her laying over in Devonport Saturday nights.
During the first few months of operation she was limited to 480 passengers, but from 1/10/85 it was increased to 855.
The Abel Tasman proved to be very popular, surprising passenger numbers of the Empress of Australia, whom she replaced. Following in the tradition of her former life, Abel Tasman on a few occasions was briefly taken off the Bass strait line to do cruises on special occasions. The first such occasion was for Tasmania Day celebrations in November 1985. She departed Melbourne on the 22/10 and sailed to Hobart (Capital of Tasmania) arriving in the morning of the 24/10 to join the celebrations on the Derwent river. That evening she Departed Hobart and sailed south around the bottom of Tasmania, past South Cape Bay and up the West coast and back to Melbourne on 26/10. Another such occasion was on 21/11/87 where Abel Tasman competed in a race against a steam train from Devonport to Burnie (About 40km). She sailed at maximum speed, and won by a small margin. She stayed moored in Burnie for that day and night for the Tasmania day celebrations.

In July 1989 Abel Tasman went for her biennial dry docking to Newcastle, in which her original TT in a diamond from her Baltic days re-appeared on the funnel, only with different colours. Probably because it was easier just to re-paint the embossed logo that was still there, and on the bow too. On her way home, she preformed a small cruise. She called into Sydney Harbor, and collected her passengers to take to Melbourne.
By 1990 plans to replace her were underway, with TT-line actively searching for ferries in Europe to replace Abel Tasman, but nothing suitable was available for sale. On 8/6/1990 Abel Tasman had carried her 1 millionth passenger. During the summer season of 1990 Abel Tasman started a fortnightly schedule, with departures everyday with no layover day in Devonport to try and cope with heavy bookings. Unfortunately she suffered some troubles with her rudders, and in July of 1990 had to go to Sydney for emergency dry docking and temporary repairs. A month later she was again dry docked in Newcastle for her normal dry docking and proper fix of the rudders.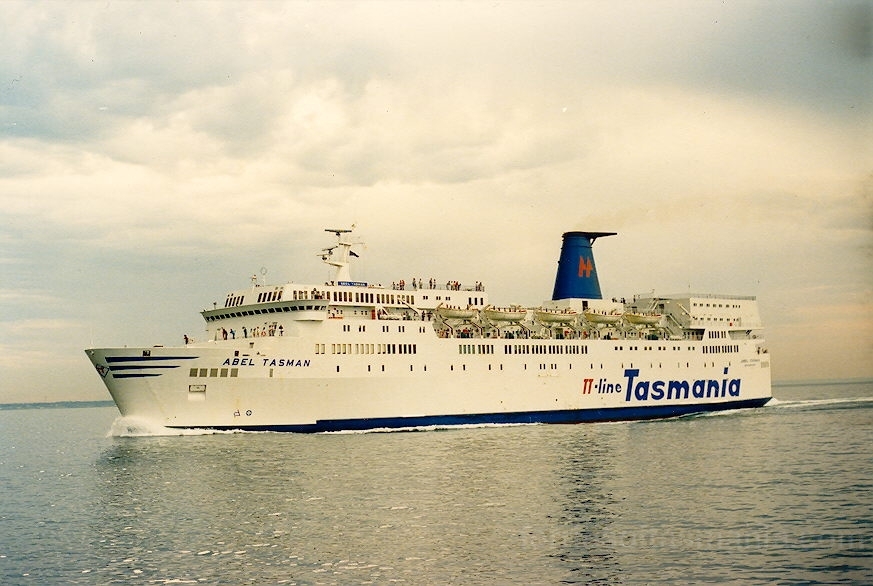 During 1990 plans for a new ship had been drawn up, and some ship yards in Europe had expected an order would be placed for a new build. But that never came to fruition. But on 24.12.1990 the Tasmanian Government announced it had secured a secondhand ferry to Replace the Abel Tasman. This turned out to be the jumbo ferry, Peter Pan of 1986, the ship that had replaced Nils Holgersson on the Travemünde – Trelleborg four years earlier. The catch was Peter Pan would not be delivered until 1993.
On 27/11/1993 Abel Tasman departed Devonport for the last time to much fanfare to cross Bass Strait, docking in Melbourne the following morning. After she had discharged her cargo and passengers, she departed Station Pier and headed out into Port Philip Bay to meet the Spirit of Tasmania, who had been a few hours behind, coming from Devonport also. The two ferries sailed up the bay alongside one another, with Spirit of Tasmania docking in the eastern side on the pier ready for her maiden voyage, and Abel Tasman docking on the Western side to be laid-up.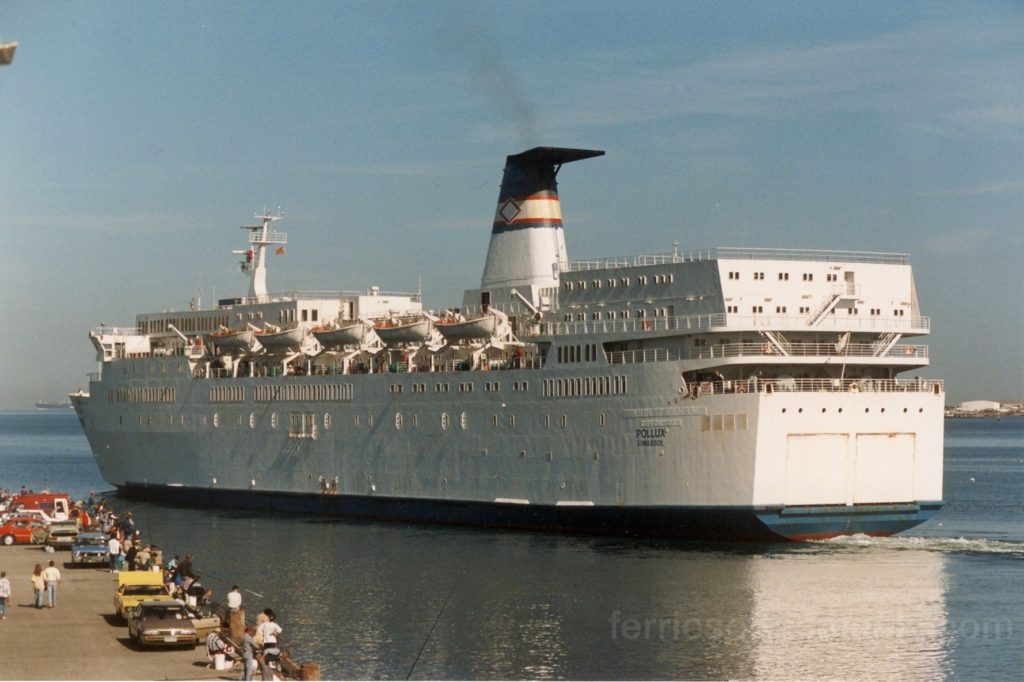 Abel Tasman remained laid up alongside station pier for almost five months waiting to be sold. There had been interest from her former owners, TT-Line of Germany to purchase the ship back to open a new service, Rostock Germany to St Petersburg Russia, even inviting ship yards to tender the re-conversion of Abel Tasman back to original configuration, but nether the new route or purchase materialized. In April of 1994 she was sold to a Greek company, Ventouris Ferries. The price was USD $24.7 Million. A couple of weeks before she departed, her Greek crew arrived to prepare the ship to sail back to Europe. Among the works carried out was the painting out of the TT-Line Tasmania on the hull and other works in preparations for the voyage. On 30/4/1994, now named Pollux, she departed Melbourne for the final time, bound for Piraeus, Greece. After crossing the Indian Ocean and transiting the Suez canal she arrived in Piraeus 27/5/94. During June she sailed to the island of Crete, as she was charted to the European Union to be used as accommodation, for conference held there. On 21/7/1994 Pollux commenced sailing between Igoumenitsa Greece, and Bari Italy for the summer season.
In 1995 Ventouris Ferries had some troubles with one of Pollux's engines crankshaft. It was decided to place Pollux on domestic lines to the Greek islands, mainly because she lacked vehicle space for trucks on the Greece-Italy trade. At the time NEL Line was one of the leading ferry operators in the Aegean sea, when they head what Ventouris wanted to do, they lodged a complaint with the Greek ministry for transport. At the time the minister told them that the only way to stop Ventouris would be if they buy the ship from them. So in May 1995 Ventouris Ferries sold Pollux to NEL Lines (Maritime Company of Lesvos) for USD 24.5m, reported at the time as the most expensive second hand ship sold to Greek owners for domestic lines . She was renamed Theofilos and painted into NEL Lines livery, as well as the addition of two aft passenger gangways and escalators. There was a new reception placed at the aft also. The ship remained essentially the same as her days in Tasmania, even retaining some names of public spaces, like the Devil's Kitchen restaurant. After the purchase of Theofilos, NEL discovered the damage to the crankshaft. NEL commenced legal proceedings against Ventourus, saying they knew the ship had a faulty crank when they sold it to them. The courts agreed and awarded the cost of repairs to NEL. Theofilos was deployed on a route servicing islands in the northern Aegean, sailing from Piraeus to the islands of Chios and Lesbos, then to mainland port of Thessaloniki and back.
On the 3/7/1995, the ship was approaching the port of Chios, but the telegraph control failed to change from engine control room to bridge control. The ship entered the port at full speed. The crew preformed an emergency shutdown of engines and dropped the anchors in attempt to stop the ship from hitting the quay side. But the ship hit at speed, causing significant damage to the quayside, and crushing a car.
Nel Lines fixed the crankshaft and Theofilos sailed reliably for NEL Lines for many years, servicing the Northern Aegean. On the 28/6/2008 whilst sailing from Piraeus to Chios she struck a reef off Oinousses island. Theofilos took on water, flooding the engine room and some passenger accommodation, causing a 2.5 degree list . The flooding was contained by her watertight doors. She was carrying 475 passengers and 97 crew. The passengers were evacuated by life boats and onto small local ferries who took the passengers to Oinousses and Chios. Temporary repairs were made to stop fuel oil from leaking into the sea, after which she was towed to Hellenic Shipyards in Skaramagas (Near Athens) The ship was temperately repaired and water pumped out. She was then laid up until April 2009 when she was taken to Perama shipyard and full repairs were carried out. The repair cost was €5 million euro, and was paid by NEL's insurer, The West of England Shipowners. On 17/5/09 Theofilos was again sailing, resuming her trade in the north Aegean, of connecting Thessaloniki to Limnos, Mytilini, Chios,Vathi,Kavala.

Theofilos's engines were never quite same again after being flooded, and on the 6/12/2010 she suffered major engine trouble. She was withdrawn from service and taken to Drapetsona shipyard for repairs. She was laid up for some time, probably because it was winter and NEL had covered Theofilos's routes with another ferry, not to mention financial troubles at NEL due to unsuccessful attempt at operating fast ferries, plagued with troubles also.
25/10/2011 Theofilos was reactivated with her engines repaired. She commenced again her Northern Aegean line. on 3/11/11 she again suffered engine trouble, not as serious as before, but still had to be withdrawn from service, taken back to Drapetsona for repairs. After 2 weeks she departed the ship yard and headed back to work the North Aegean.
At the end of January 2012 Theofilos was again back at Drapetsona ship yard, but this time for modification. In a surprise move NEL Lines wanted to remove the large box that had been placed at the stern for her Australian crew, some 25 years earlier. Reasoning behind it was to comply her to SOLAS 2009 (Stockholm agreement) with regard to improved stability if there was water on the car deck, also it was mostly surplus to requirements, and to reduce fuel consumption. By June she was all fixed up ready for the summer season, on Northern Aegean life line routes. Piraeus, Evdilos, Samos, Chios , Mytilene, Lemnos to Thessaloniki. In October of 2012 Theofilos had again suffered major engine trouble, and was back at Drapetsona ship yard for repairs. 22/11/12 she resumed service. 13/1/2015 Theofilos was laid up at Piraeus, following financial troubles with NEL Lines. A few weeks later,NEL Lines fell once and for all, as victims to Greek financial crises. All operations of NEL were suspended, and their ships arrested by creditors, including Theofilos. She sailed to Drapetsona, where she was put into cold lay-up, and offered for sale. Theofilos remained here until early 2018, when she was towed to anconage at Eleusis bay, where she remains. It is most likely she will be sold for scrap, . She has been to auction a few times, with a reserve of EUR € 1,920 million (Approx AUS $3m) but has did not sell.
At the end of October 2019 Theofilos was sold for Euro €380,000 to Crete based ANEN Lines. She has been placed under Togo registry (flag). 5/3/21 Theofilos was towed from the anconage at Eleusis bay to Spanopoulos ship yard, Ambelakia on Salaminas Island, she was moored alongside old fleet mate Taxiarchis and Panagia Agiasou of SAOS Ferries.
14/5/22 Theofilos, renamed ILos for the one way voyge departed Salaminas under tow by Christos LXI bound for the scrap yards of Aliağa Turkey.
She arrived on Monday 16/5/22 where she was beached.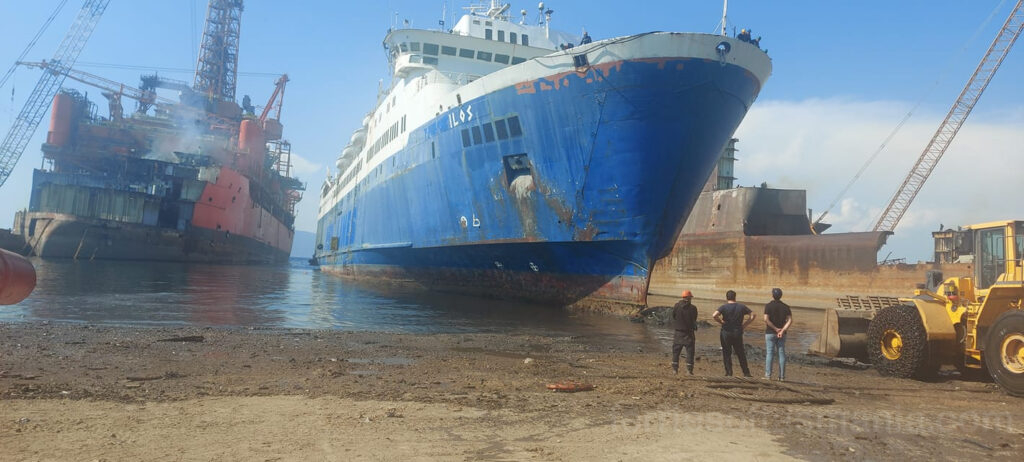 Gallery
Abel Tasman


Nils Holgersson, Pollux, Theofilos


Name Meanings:
Nils Holgersson: A Scandinavian fictional story about a boy from "The Wonderful Adventures of Nils" who was shrunk down to a very small size and could talk to animals. He ended going on adventures all around Sweden on the back of a flock of geese.
Abel Tasman: Was a Dutch explorer who was the first European to discover Tasmania, which he named Van Diemen's Land at the time.
Pollux: A star in the constellation of Gemini, which is named after a character from Greek mythology, who along with his twin were regarded as the patrons of sailors, to whom they appeared as St. Elmo's fire. They were also associated with horsemanship, due to the idea that they rode the 'white horses' of foam that were formed by curling ocean waves.
Theofilos: A well know Greek folk art painter from the island of Lesbos during the 1900s.
Also in Greek it means: Friend of God.