Builder: The NSW State Dock Yard, Newcastle Australia.
Year of build: 1961
Ship yard number: 64
IMO Number: 5037735
Call sign:VJWY
Length: 98.2m.
Width: 17.3m
Daft: DWL3.0m / Scantling 4.8m
GT/NT/DWT. 4,129t/ 2,390t/ 1,515t .
Main engines. Two Napier Deltic T18-27C
Power rating: 3,236KW
Gear ratio: 1,600rpm to 167rpm
Service speed: 13.69kn
Passenger capacity: 12.
Cars:N/A
Trailers: 60 and 20 shipping containers
Total Lane meters: 600m approx


When the ANL ordered the Princess of Tasmania they had the foresight to see that there would be high demand for trucks and other general Ro/Ro cargo to be transported across Bass Strait. So during their investigations in Europe they inspected Bardic Ferry and sister Ionic Ferry which were the first commercial Ro/Ro ferries in the world, although they did have a passenger capacity of 53.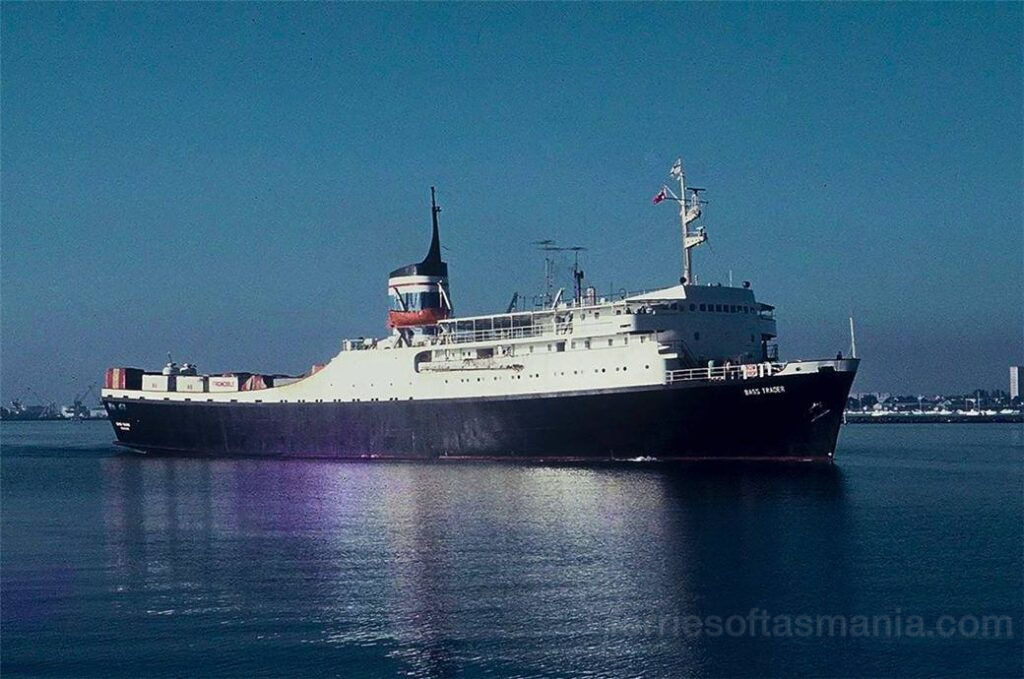 In 1958 ANL placed an order for Bass Trader at The Newcastle State Dockyard. She was to have a capacity of 60 semi-trailers on the main deck and 22 containers on the upper deck as well as a cellar deck or lower hold. Cargo was lowed by overhead hoist, once down there there where hydraulic operated bogies that could position the freight to the desired position.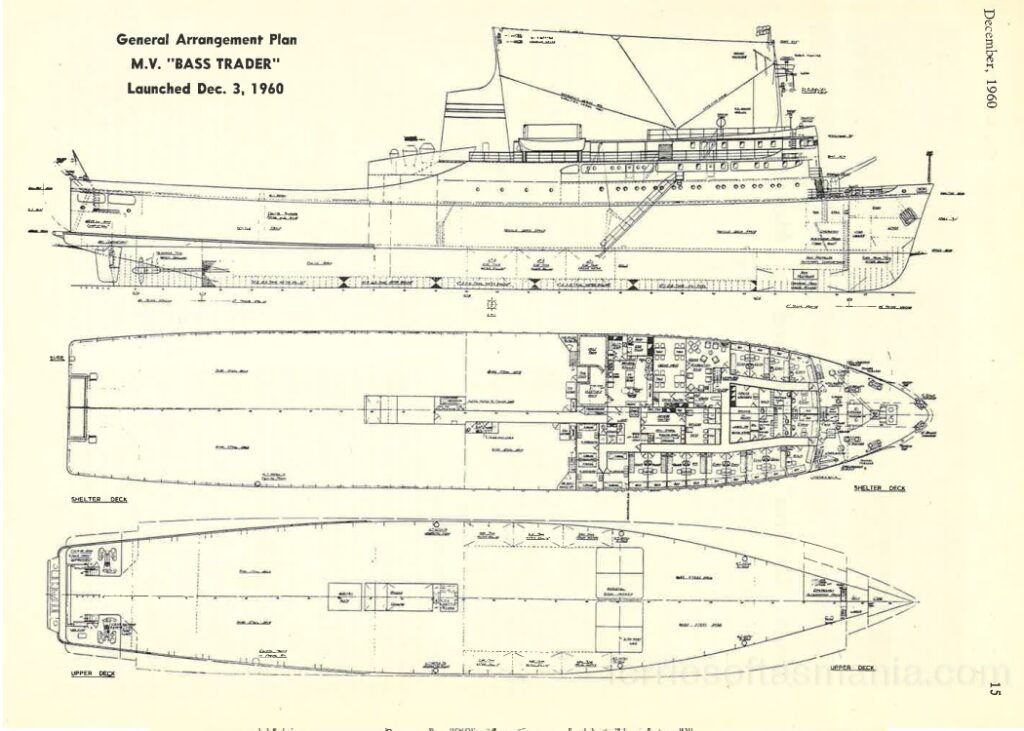 The engine selection was one of the most innovative things about Bass Trader, selecting Napier Deltic 18 cyl two stroke engines. These engines were a very futuristic concept, where the engines were of a triangular shape with three crankshafts, one in each corner of the engine. It had opposing pistons, and supercharges as they were unable to scavenge their own air. The advantage of these engines was mainly the small size, only being about 3.6m long, 2.1 high by 1.5m wide weighing about 5 tons with an output of 1,618kw. This allowed the vessel to have low free height in the engine room allowing for more height in the main garage deck. Comparable engines from other manufactures would have been much larger and heavier. The trouble with the Naper Deltic was it was a highly stung engine, with relatively short intervals between maintenance.
For this reason, they were designed to be removed from the vessel and replaced with a spare whilst maintenance was carried out on the other. Bass Trader was supplied with five engines, two in service, two being repaired in port Melbourne at the commonwealth engine works, and one to be carried onboard as a spare.
These engines were coupled to Allen-Stoeckicht Epicyclic gears through a fluid coupling, which was another departure from the tradition, rather than parallel shaft gears. The gearboxes were solidly connected to the prop shafts driving Stones Ka Me Wa variable pitch propellers.
Bass Trader had some other advanced machinery onboard, such as rolls Royce driven English electric generators, fin stabilizers by Denny-Brown, bow thruster by Voith-Schneider as on the Princess.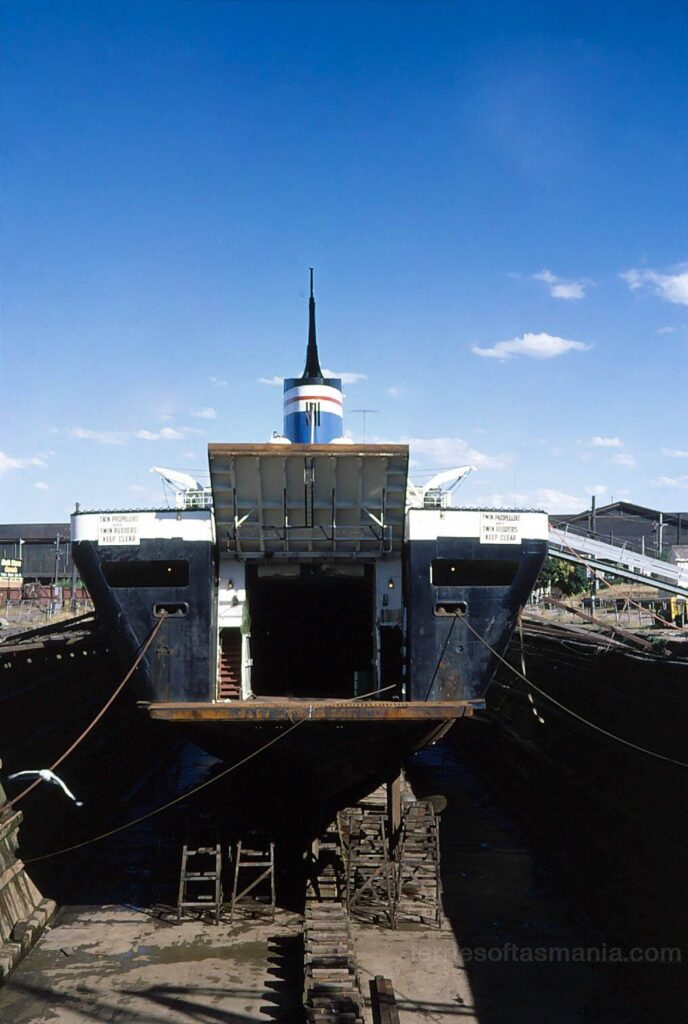 The keel was laid on 14/9/1959 not long after the Princess of Tasmania had cleared the slip
She was launched 3/12/1960 by Mrs Henty, wife of then customs minister. The trip down the slipway took just 20 seconds, the fastest at the yard to date. She was handed over 5/4/1961 to ANL.
Bass Trader departed Newcastle for Melbourne, arriving there on 9/4/61. Two days later she headed for Tasmania to visit Bell Bay, Devonport and Burnie, the ports which she would serve.
She made her maiden voyage from Melbourne to Burnie on 18/4/61 commencing a career on the strait which would last 13 years.
She sailed on a weekly schedule serving the ports of Burnie, Bell Bay and Devonport from Melbourne one a week each.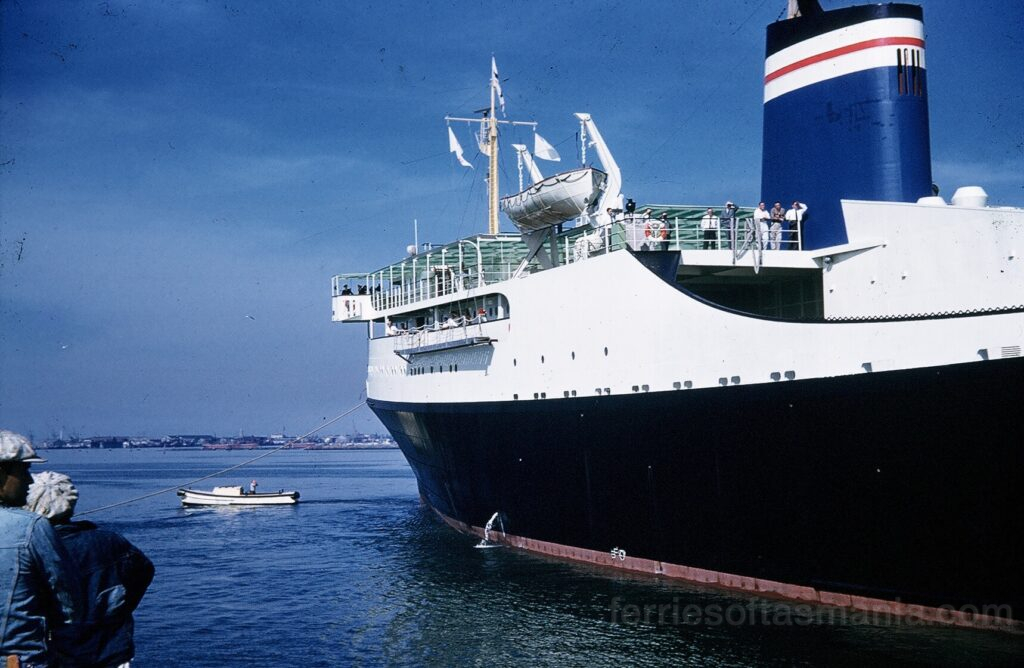 Bass Trader had a relatively event free career on the Bass Strait.
On 11/8/1962 Bass Trader took on bunkers in Melbourne, before departure it was discovered aviation fuel had been added to the tanks. This had to be removed and replaced with diesel which delayed the departure.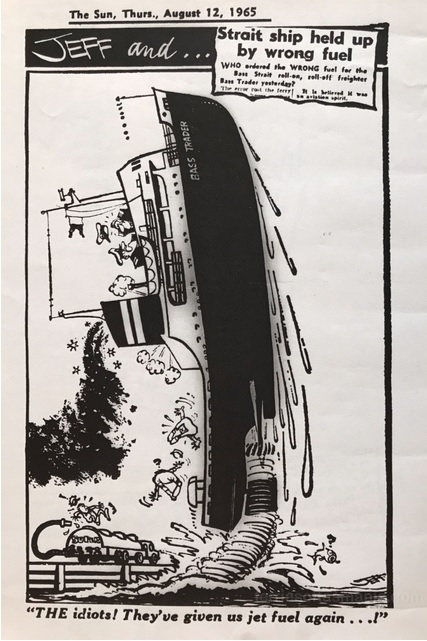 Another indecent was during the 1960 she was approaching the Mersey River at Devonport during a south-westerly and ran aground on the eastern side of the river around midday. She was re-floated during high tide. Another incident was on the 15/6/1972 when she collided with a pilot vessel Wyuna in Port Philip Bay during heavy fog. She wasn't badly damaged though.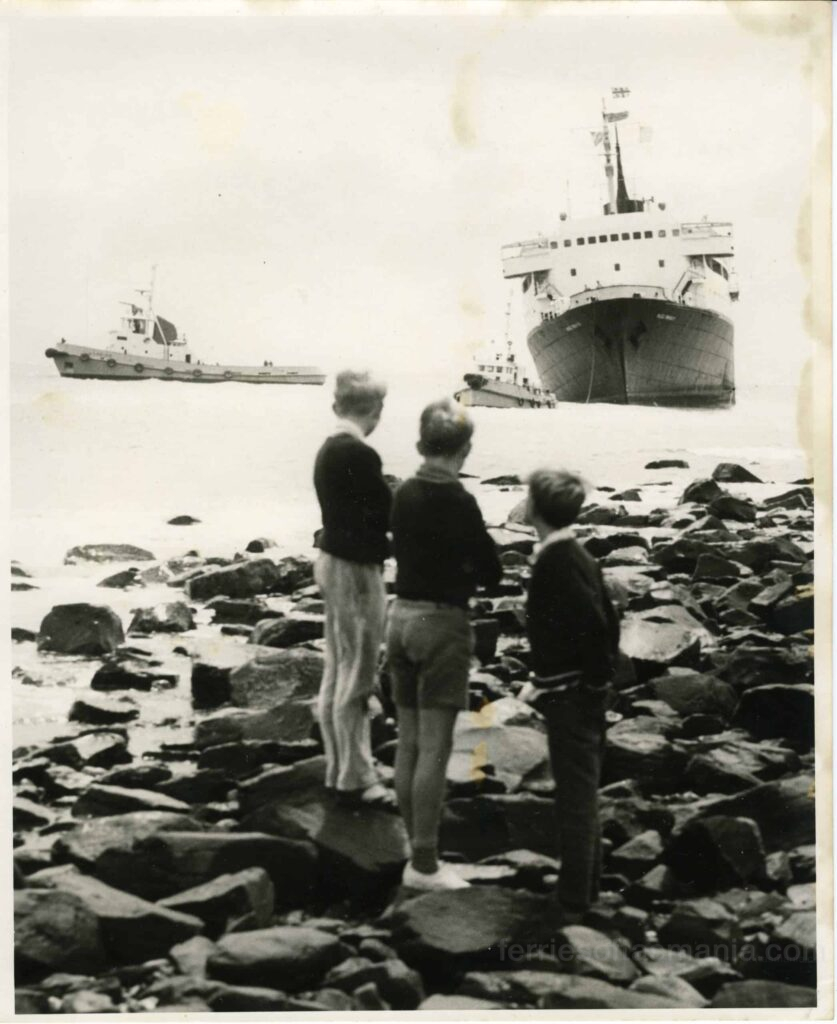 In October 1969 she was placed on a new Hobart to Melbourne line, but proved to be unsuited to the line and was put back on the northern Tasmania to Melbourne route after only three voyages.
By the mid-1970s the Bass Trader had become a victim of her own success, being too small for the growing trade, and the Napier Deltics were becoming a bit old by then. So, a new vessel was ordered at The State Dockyard in Newcastle. (Bass Trader 2)
The Bass Trader arrived in Melbourne for the final time on 20/3/1975 and was laid up.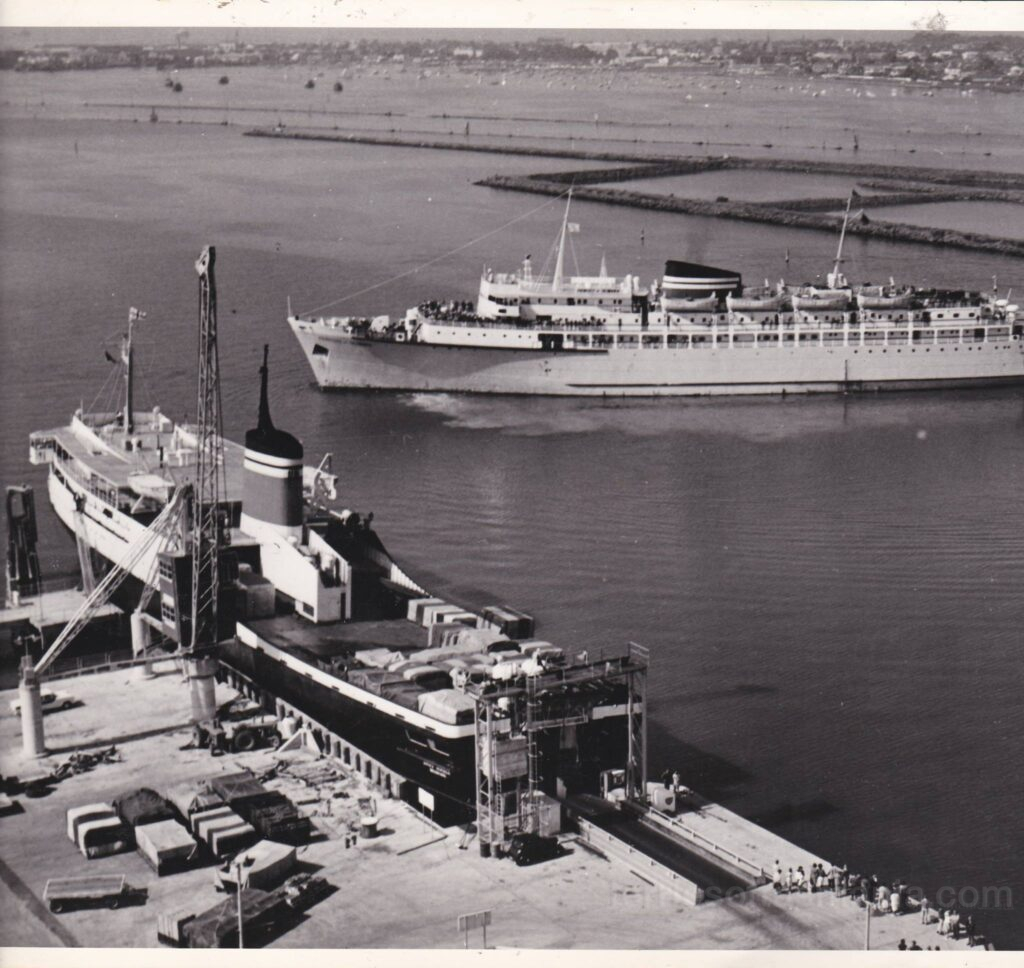 She was sold to Italian based Halley Enterprise Shipping. She was handed over on 16/4/1975 to her new owners and departed Melbourne 6/5/75 renamed Halley, going via Fremantle (13/5/1975), Durban South Africa, arriving La Spezia Italy on 2/6/1975. One of the main jobs was to fit a stern ramp.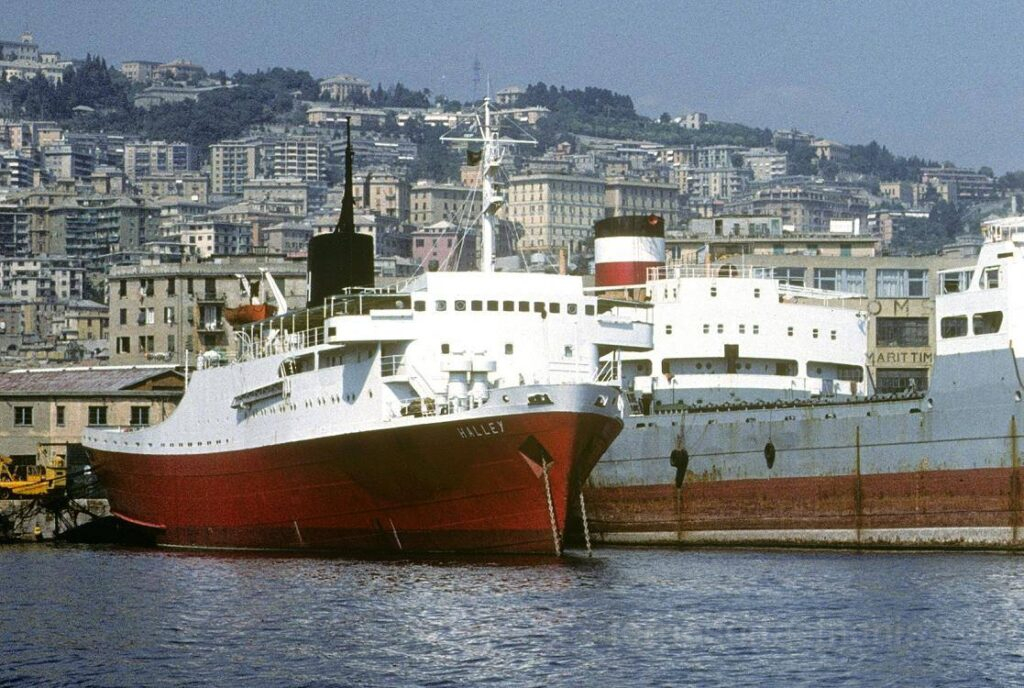 Her career in Europe saw her sailing with Italian crew, between mainland Italy to northern Africa and Italian islands (Malta etc)
By 1982 she was laid up in Genoa, presumably because of her ever-troublesome engines.
In 1984 she was sold to D. Riccardi scrap yard in Savona, Italy for demolition.