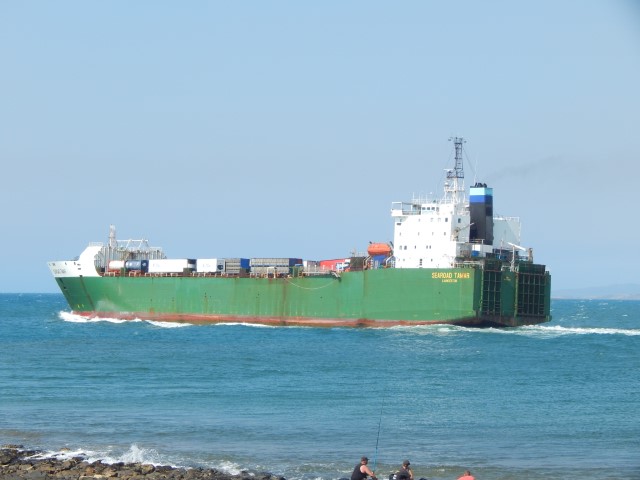 Early this year it was revealed by reputable industry publications that the Searoad Tamar was sold to Greek buyers for further service. It was later revealed the buyer was Ainaftis shipping, based in Piraeus Greece.

The ship had departed Devonport for the final time on 31 March, bound for what many believed would be a long life in Greece, serving the domestic lines throughout the network of Ainaftis. next morning, 1 April she discharged in Melbourne and then moved to anchor before returning briefly to Webb Dock 3 April for auxiliary engine repairs, then to Victoria Dock 5 April for handover to Ainaftis Shipping of Piraeus 8 April. Officially the owning company was listed as STAR SAILOR SA with management by, UNITED SAILS SA. She was transferred to the Panama flag the following day and departed Melbourne 2345hrs on 13 April showing destination Port Said, Egypt.

The following is from a seafarer who was onboard the Tamar to Bangladesh and spoke with Chris Tiedemann from Devonport, Tasmania, who in turn has kindly provided me with the info and permission to post it.
After the pilot left the ship at the Rip, the seafarer said the threats from the "So called Captain" started… shortly after leaving Melbourne the crew were ordered to pack all the lashing and other gear into crates to be sent to Greece, or they wouldn't be payed.
They couldn't figure that out as they thought that they were going to Greece with the vessel anyway. Later in the voyage the owners asked the ship to turn off the AIS. The seafarer was not prepared to lose his ticket for doing things like that so it was kept on. The seafarer continued on to tell Chris that his guess was that the Greeks wanted it for scrap in the first place, as the dodgy happenings after Melbourne. They were asking the ship to go to Singapore for fresh water which makes no sense as it's going way out of there way to Suez-then Greece. This never happened. Next they wanted to do ship to ship fuel transfer from her to a small tanker, LANKA FREEDOM (9058610, 414/92, Sri Lanka flag) offshore Galle, Sri Lanka 29 Apri at sea of 100mt of fuel. An engineer did not agree with this at all for obvious reasons, but seems it did take place.

The seafarer says the food was close to gone on arrival to Bangladesh. Rice and little amount of chicken was standard. They also had very little water. The crew contacted ITF London regarding it all, but he said he was basically told that ITF had very little to no power in Bangladesh, and had to accept that the Greek owners just did what they want.
They proceeded to Bangladesh with no paper charts or ECDIS, They only had a general chart sent by email to the Captain from the owner. To this day the crew have not been payed at all. They had to pay for their Quarantine time when they arrived in Australia.$2,800 they were later billed for this.
on 5 May Searoad Tamar arrived at Chittagong, Bangladesh anchorage.
The Romanian delivery crew was on four-month contracts with airfares back to Romania upon safe arrival Greece. Upon arrival Chittagong, they were told to pack up all removable equipment/goods on board and prepare for disembarkation. Names of anyone refusing to co-operate were to be taken by the Master and reported. The crew then in effect mutinied as allegedly they had not been paid nor provided tickets ex Chittagong back to Romania.
Nothing wrong with the ship: purely a money play, scrap steel prices in Bangladesh and elsewhere have been rising steadily all this year and it's likely the owners would reap c.US$4.2 million due to the very sturdy construction of vessel. They only paid c.US$900,000 (about A$1.3M) for it, plus cost of delivery voyage, so a very lucrative set of transactions …
Thanks to Chris Tiedemann for sharing this info with us. This kind of behavior from ship owners taking advantage over sea seafarers can only be condemned. Feel free to share to share this to bring awareness of the poor treatment Ainaftis has sown these sea seafarers, who have still not been paid to this day.
Some additional images