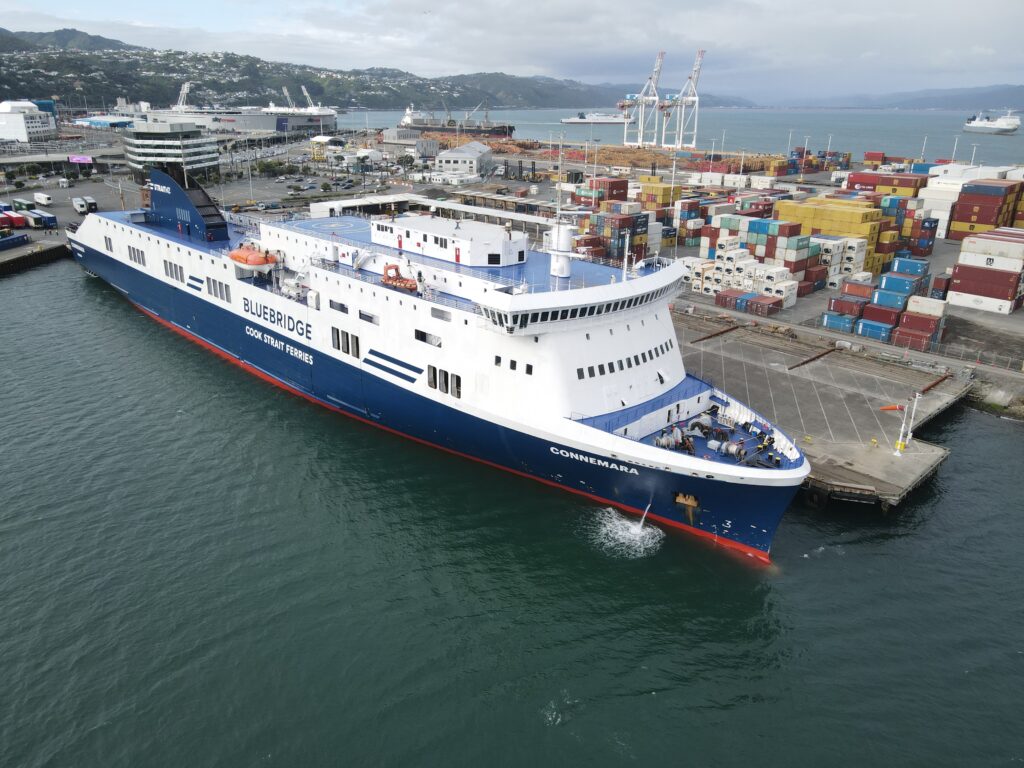 For some time I'd been thinking about a trip to NZ. On my last overseas trip in 2019 I decided I would take a trip to NZ the following year for a shorter, cheaper trip without the dreaded 24h+ long haul flight to Europe, but as with most people's travel plans over the past few years, that went out the window.

So with the opening up of NZ in mid 2022 I made the decision that I would head over in early 2023 for a look at NZ as well as check out the ferries.
I set off from Brisbane Saturday 11/2 with a flight to Auckland, only a week or so after they had flooding in the city, as well as a substantial amount of water through the airport.
After arriving in Auckland airport, the process of clearing immigration/customs took just under 3 hours, crazy stuff! Shuttle to my hotel and off to sleep!
Few days in Auckland to check it out, and a severe weather warning for Cyclone Gabriel was issued for my second day, great!
On the Monday night the Cyclone had passed over the north Island, devastating many communities, especially in the east coast, around Gisbon and Hawks Bay. It was my plan to travel over to that part of the country, but cancelled that as it was cut off. I picked up my little rental car and headed for Rotorua, then onto Whanganui for the night.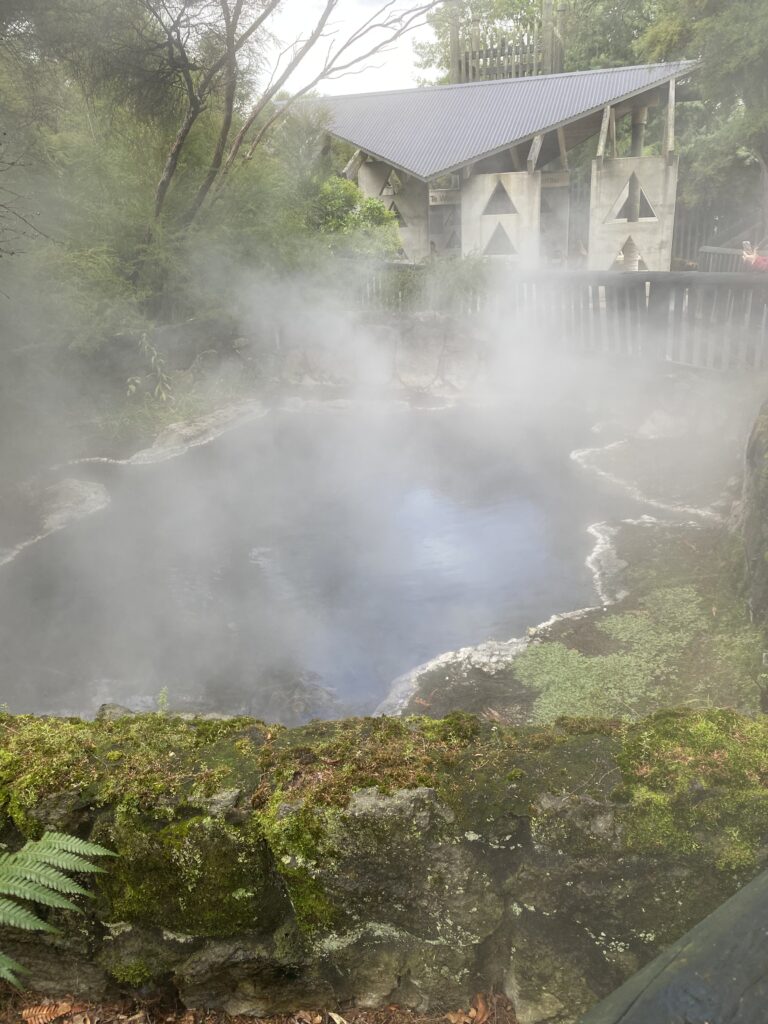 Next morning I headed off to Wellington via a few different places. Arrival in the late afternoon. I had asked on some NZ groups about good locations for spotting the ferries in Wellington, I tried to get to these with limited success.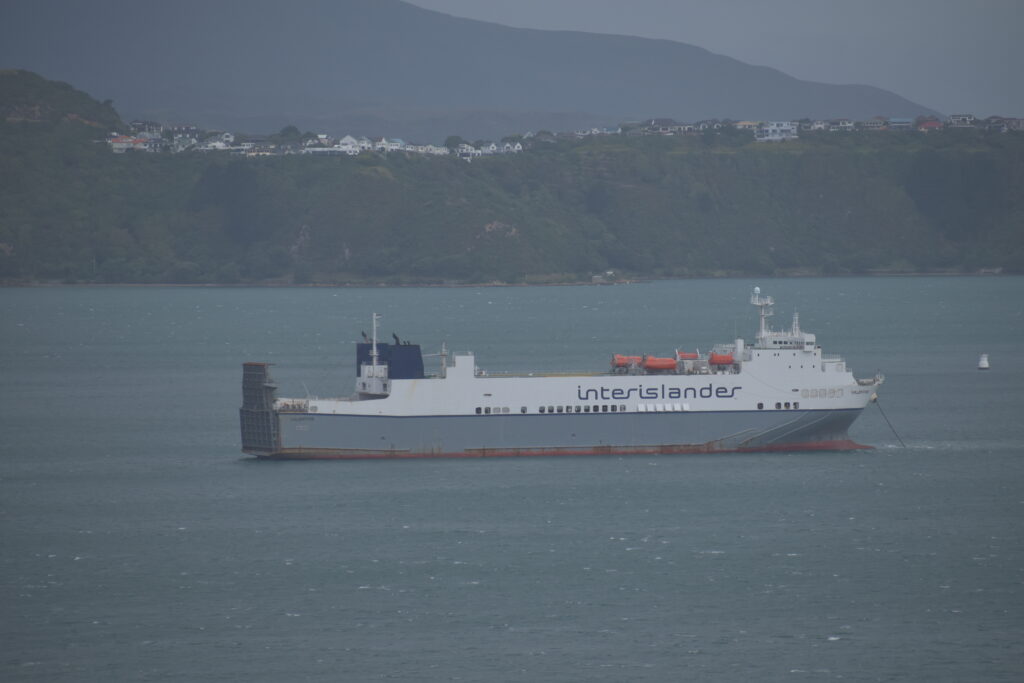 On the way back to the Hotel I saw the Connemara in dock with Strait Foronia, and thought what a good opportunity to send the drone up and get them both in port, a rare shot!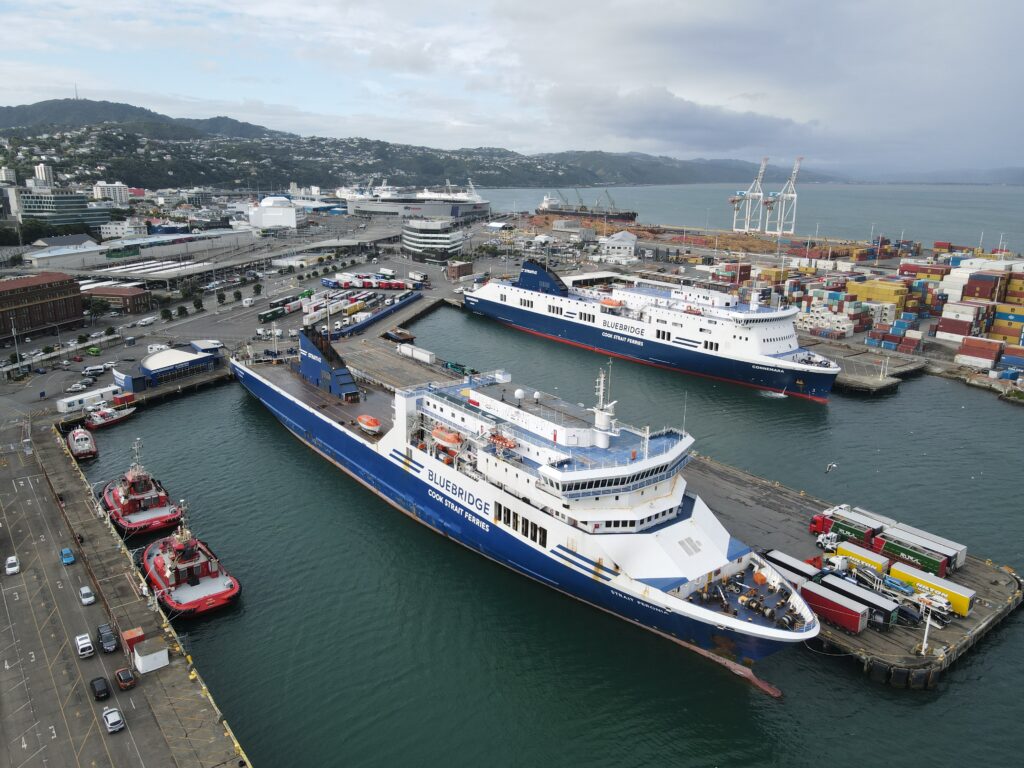 Next day was a day just around Wellington to do some ship spotting and see the sights. I awoke to heavy rain and strong winds, lovely!
I had wanted for some time to check out the memorials of the Wahine around Wellington.
For those who don't know, Whahnie was a Cook Strait ferry that sailed between Lyttelton (near Christchurch) to Wellington overnight. She was built in Scotland in 1966 and tragically came to grief on Barrett Reef on 10/4/1968 with the loss of 53 people.
I went to the eastern side firstly, where her fore mast is erected as a memorial.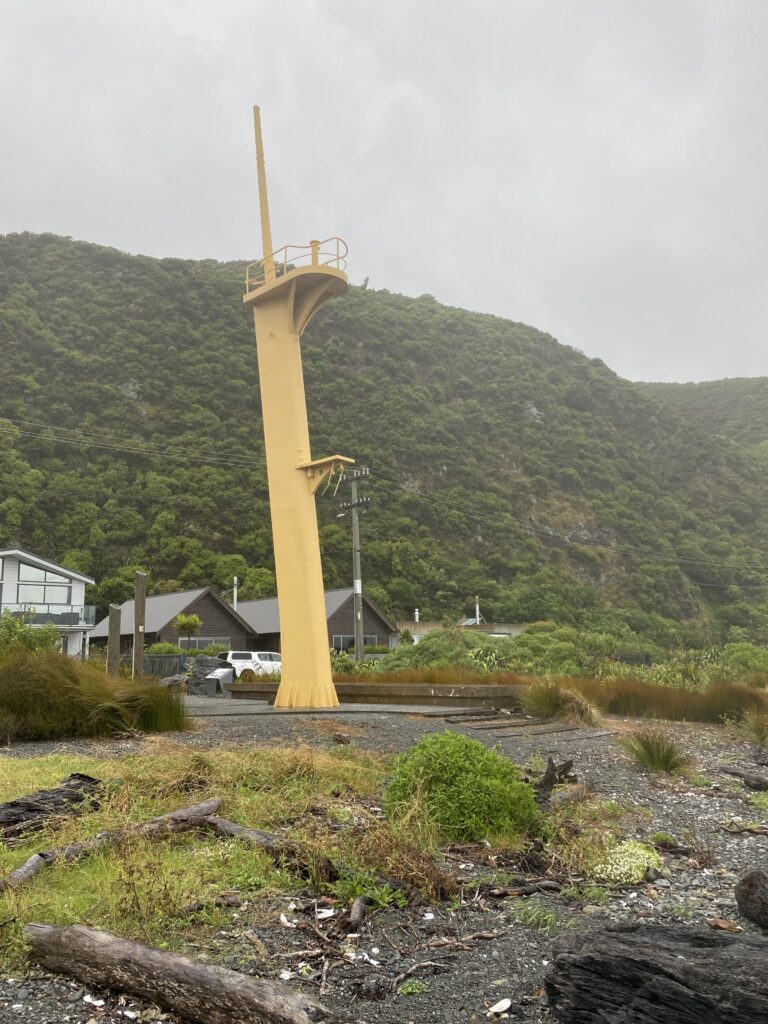 Onto another site, where one of the anchors was situated near a shopping complex/community center. Back to the city where the smaller mast is now situated as a memorial.
I had researched a little and found that the Auckland maritime museum housed a display of memorabilia and section devoted to Wahine an the disaster.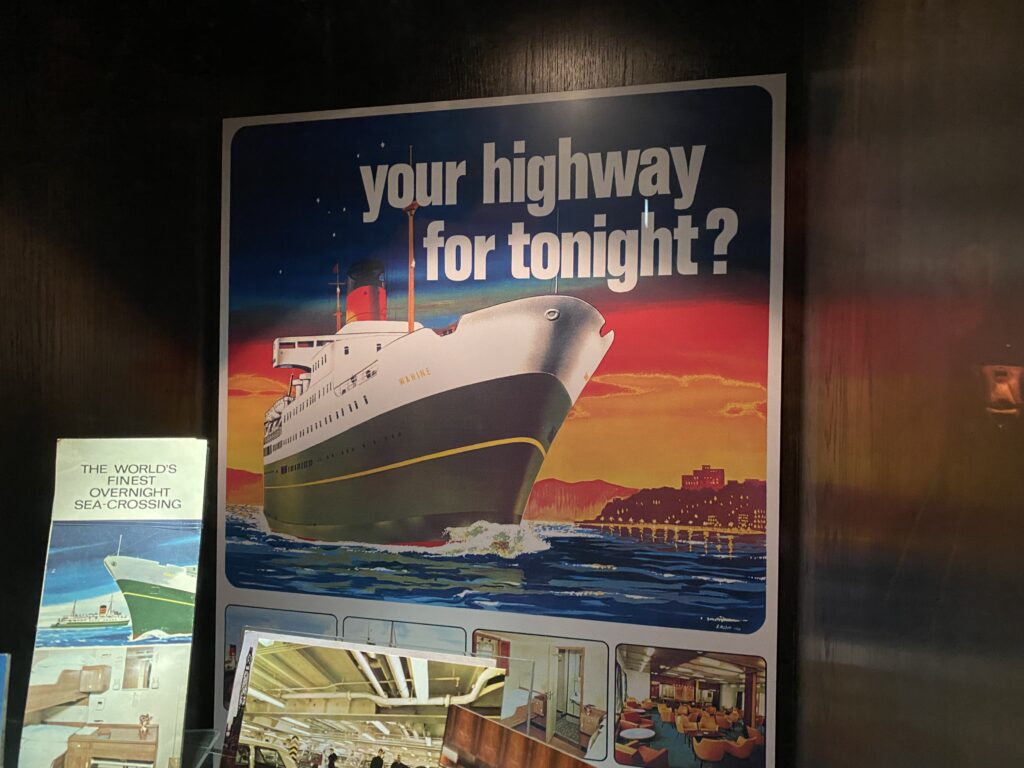 In the shop they had a book called "STRAIT CROSSING" by Victor Young written in 2009. I've not yet read it, but looks interesting, but it's now in my collection.
Rest of the day was spent exploring the city, but in the afternoon I did manage to drive down to west side of the harbor entrance, where there other anchor of Wahine is situated, along with some of the anchor chain.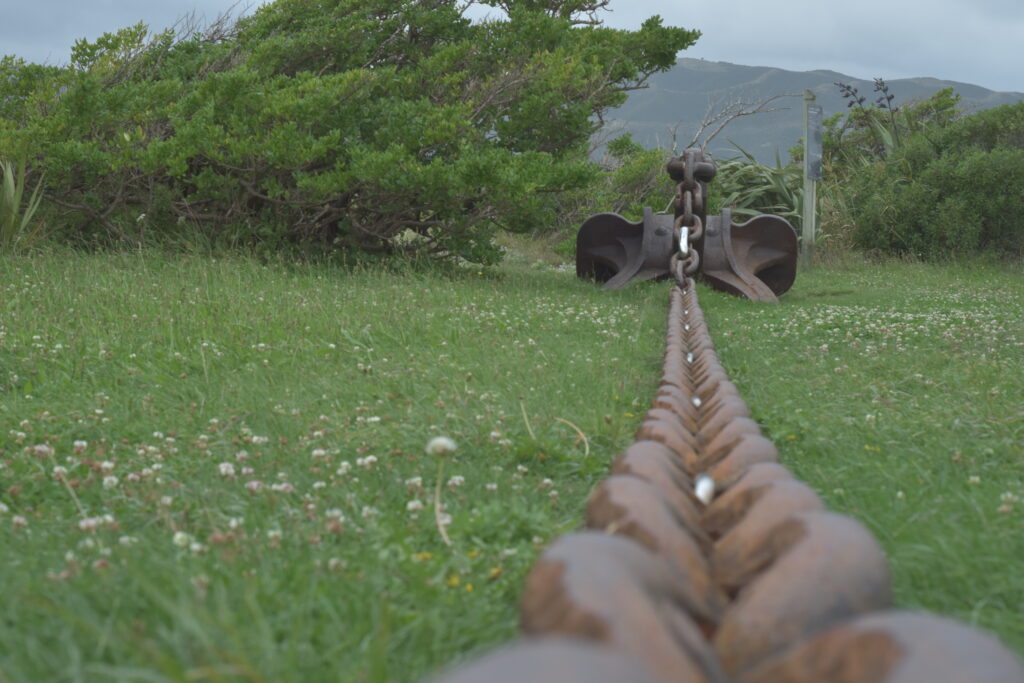 Also managed to capture some ferry moments from there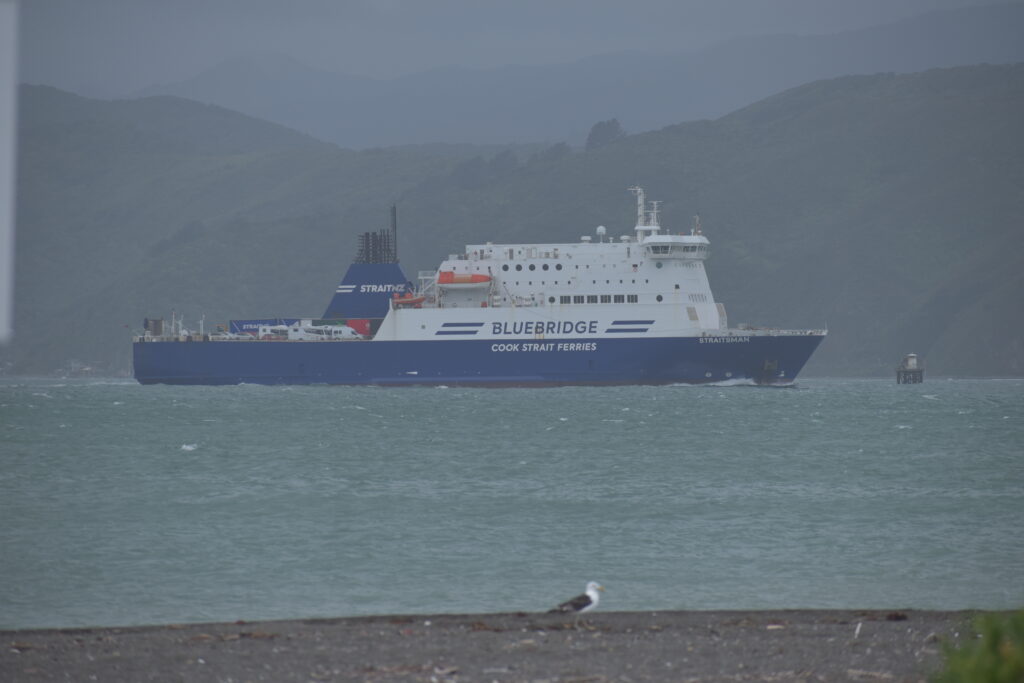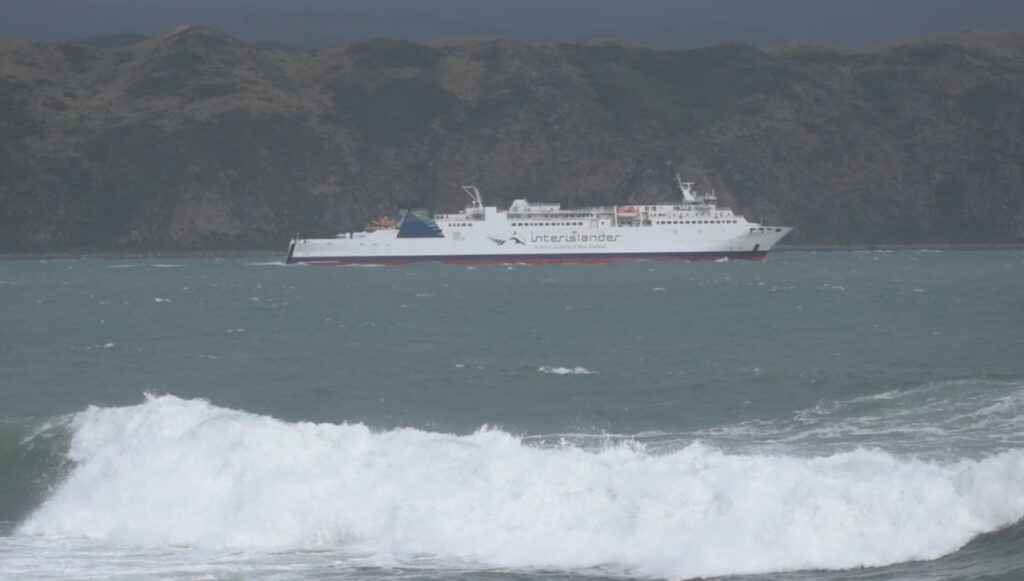 Next morning was an early start, with a 6am sailing on Aratre, for a day trip to Picton. I had originally booked to crossing with Kaitaki later in the day, but a few weeks prior there was an indecent at sea which caused loss of her engines. NZ Maritime safety had decided to stop allowing passengers to travel on her, so they moved me onto the earlier sailing with Aratere.
So we set off, little bit bumpy over, but not too bad.
We passed the Connemara in her second day of service in NZ through the Marlborough sound. We arrived in Picton, and spend a few hours walking around and just sitting by the harbor relaxing, watching the world go by. Picton is quite a nice little place actually, with quite a few cafes etc and a nice green lawn area by the harbor with some seating.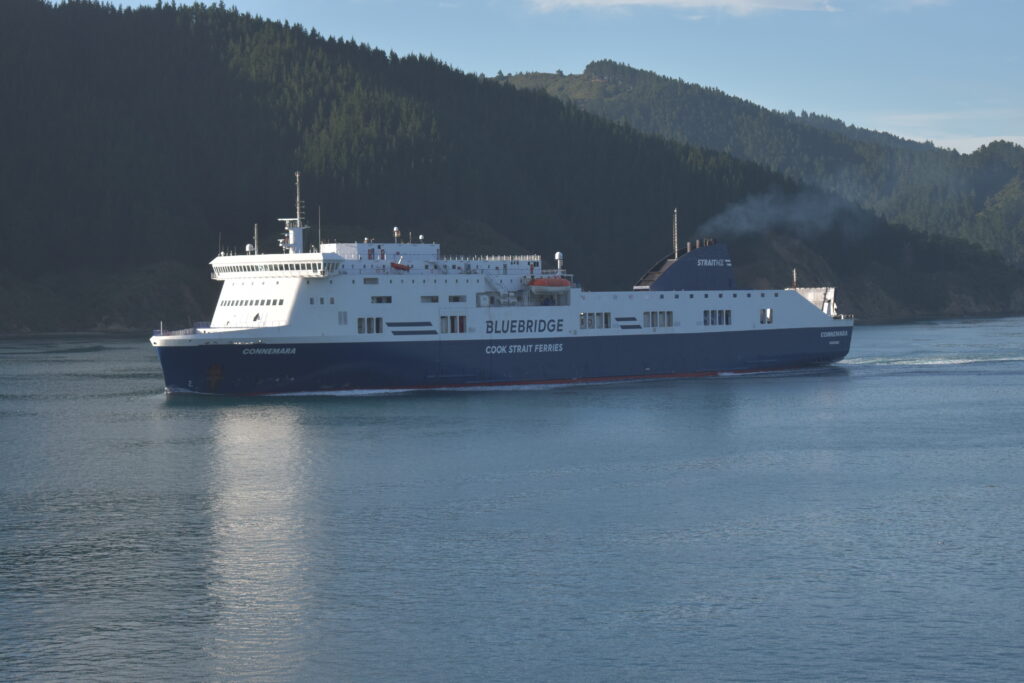 I managed to photograph all of the Cook Strait ferries through out the day. My passage with Connemara was booked for a 14:30 departure, but I received an email saying the ship was running late and not to bother checking in until later.
So just sat by the harbor, and sparked up a conversation with a nice Kiwi couple, John and Marilyn who had been south to Invercargill for a motorbike rally, and were also waiting for then late Connemara.
I had been watching Connemara on marine traffic, but when she left Wellington she went off the normal course and slowed to about 4kn. It was a bit concerning, but after a little while she appeared to resume her journey to Picton at a somewhat slower speed.
I headed over to the Blue Bridge terminal to check in, but there was quite a que forming, so I joined the end.
A young lady who was in front informed me that the voyage had been cancelled.
Strait away I knew I wasn't going to get back to Wellington that night with Blue Bridge, which was a bit concerning as my rental car and all my gear was back at a hotel in Wellington, not to mention I had a crossing booked to bring the car to the south island the next day…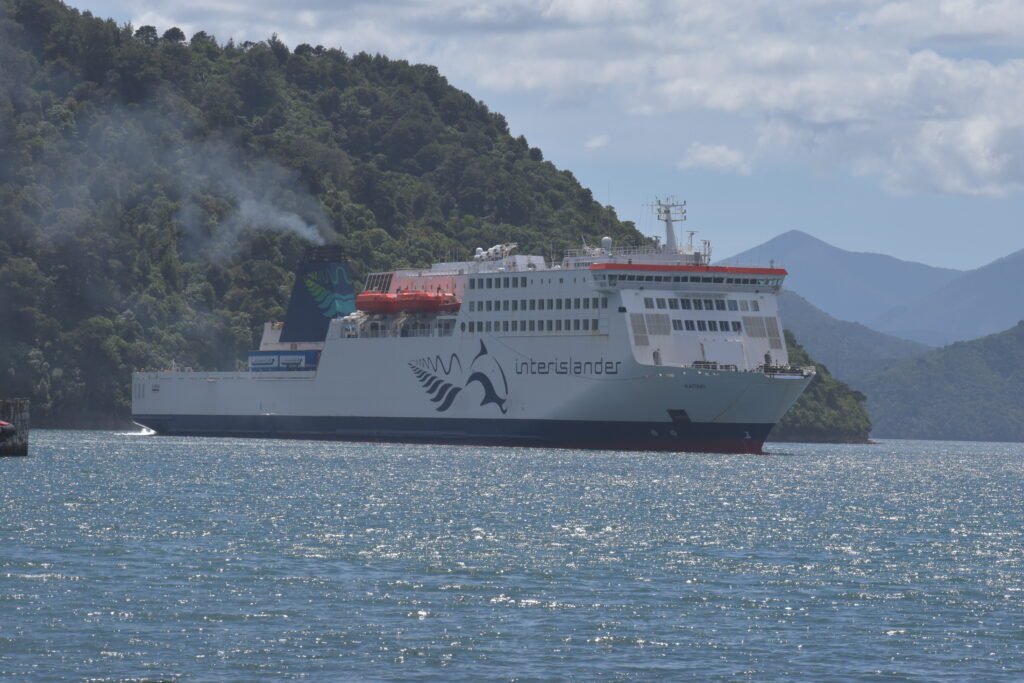 Immediately I abandoned my place in the que and briskly walked to the Interislander terminal on the off chance I might be able to get a spot with them to get back to Wellinton. I told them of my situation, and they basically said there was not much chance of getting a spot tonight. So I jumped on the net to see if I could get a flight. There was one, but how would I get to the airport in the next 30 odd mins. Quick call to the local airport transfer company and they suggested I call Sounds Air, as they'd be doing the pick ups now in town now for the flight. No sooner did I get off the call and I see their van, so I run up to the driver and ask, if I book will he be able to take me the the Airport. He calls the operations at the airport, and found the last seat had gone now, so no go…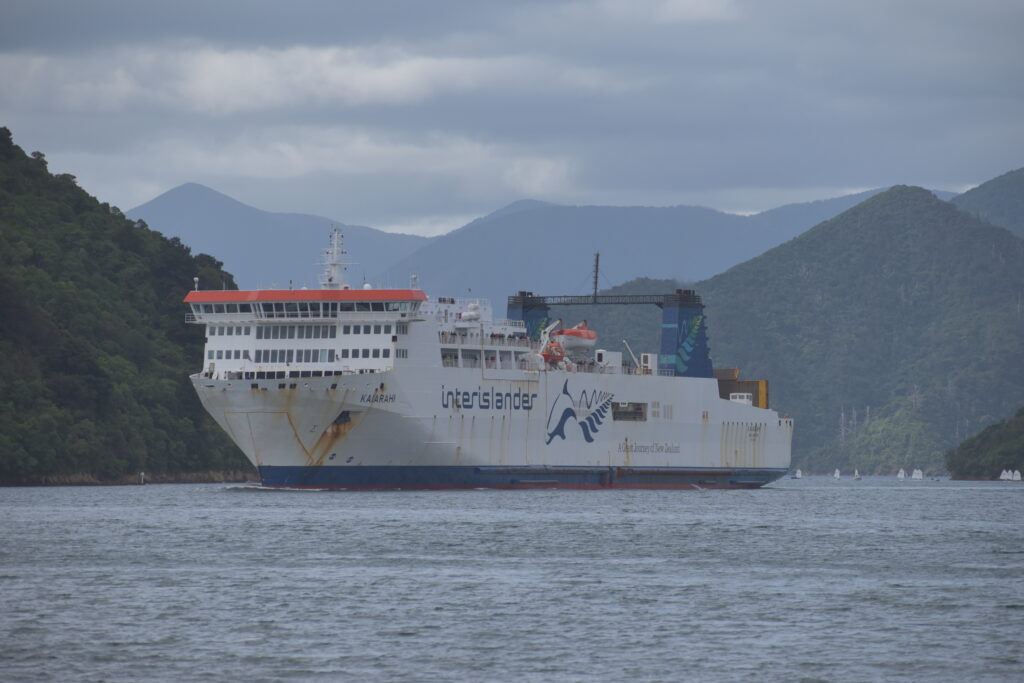 Running out of options, I walked back to the Blue Bridge terminal to see what they could offer. By now all the motels are booked out and hire car places shut.
When I got back the que was still out the door. About 5 mins after re joining the que a lady comes out and says Interislander have about 30 car spots available tonight. So off I went again, about a 10 min walk back to Interislander. My thought was, if they have room for 30 cars, they have room for one foot passenger, even if I have to jump in a car with someone!
So I joined the que there and got to the front, they already know who I was, the silly Australian who loves ferries haha. A call was made "Will we take foot pax?" the answer must have been yes, as they booked me a ticket strait away for Aratere, departure in a couple of hours. Few, what a relief!!!.
Back to Blue bridge to see if I could get a refund, or some other offer.
By now the que is almost gone now. I get to the attendant, and she says I can put you on standby for tomorrow! Thanks, but no thanks! I have already booked with Interislander.
The story was Connemara had blown a Turbocharger and was now sailig with limited manovrblity on one engine. they decided to continue to Picton on the one engine, but wouldn't be completing anymore sailings until she was fixed. She sailed back to Wellington a day or so later empty but it was a week before she resumed service.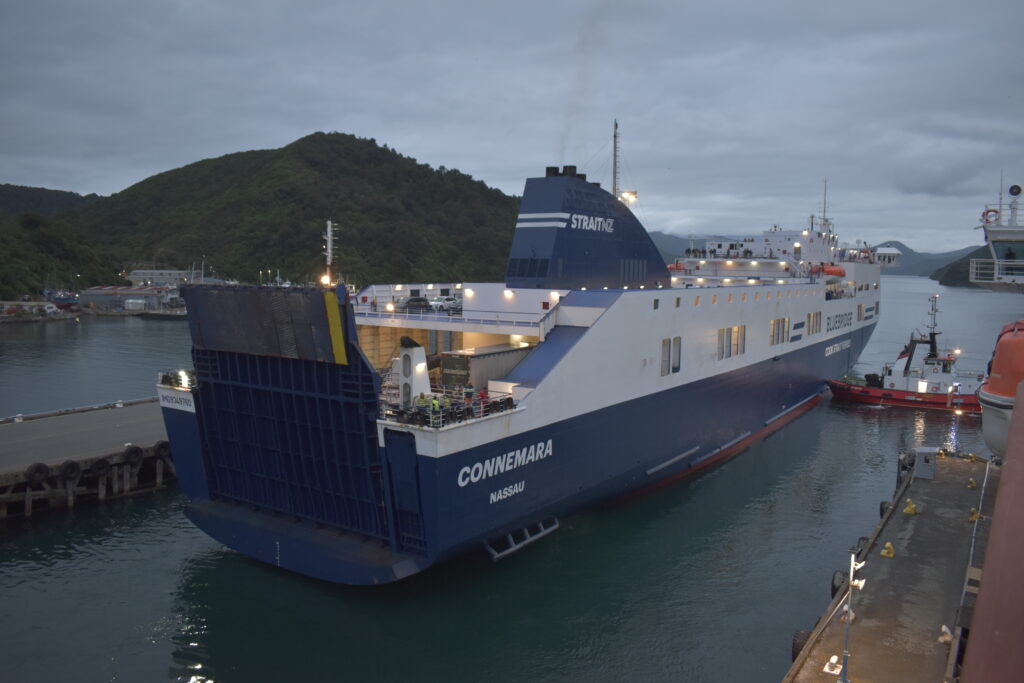 Back at the Blue bridge terminal a refund was issued, and I walked back to Interislander to await the boarding procedures. 20,000 steps up for the day now. A few other foot pax filtered through to the waiting hall, 8 of us in total. So Lots of people didn't get across that night. The 8 of us had a bit of bond, feeling a bit like refugees 😛
When I had boarded I asked the duty manager if I could visit the bridge, he said that would be no problem.
About half way through the voyage one of the deck officers and the Duty manager came and found me. They had seen my photos of Connemara on an NZ shipping Facebook page and thought perhaps I was in the maritime profession.
So up to the bridge it was. A nice chat and look around, and then back down, as they were beginning to make preparations to enter Wellington. After a massive day I arrived back to my hotel after midnight.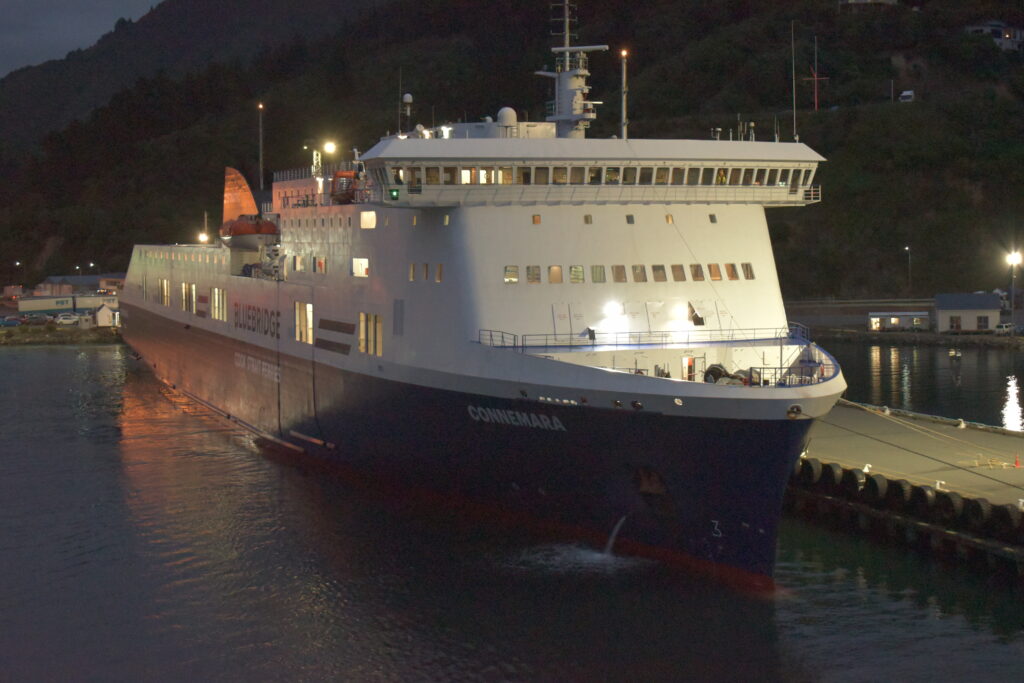 After a bit of a later start, I had a mid morning sailing with Kaiarahi back to Picton with my rental car. After joining the the que, and waiting a while I was onboard. Few! After a look about Kaiarahi, I found her to be a very basic ferry, but probably enough for this route, being around three hours voyage.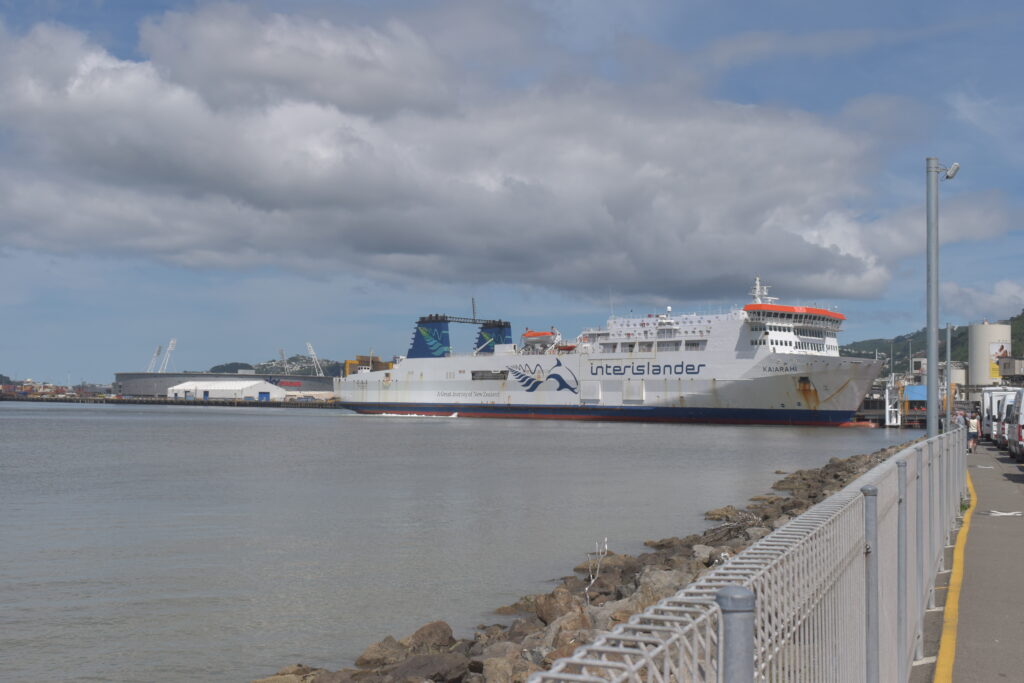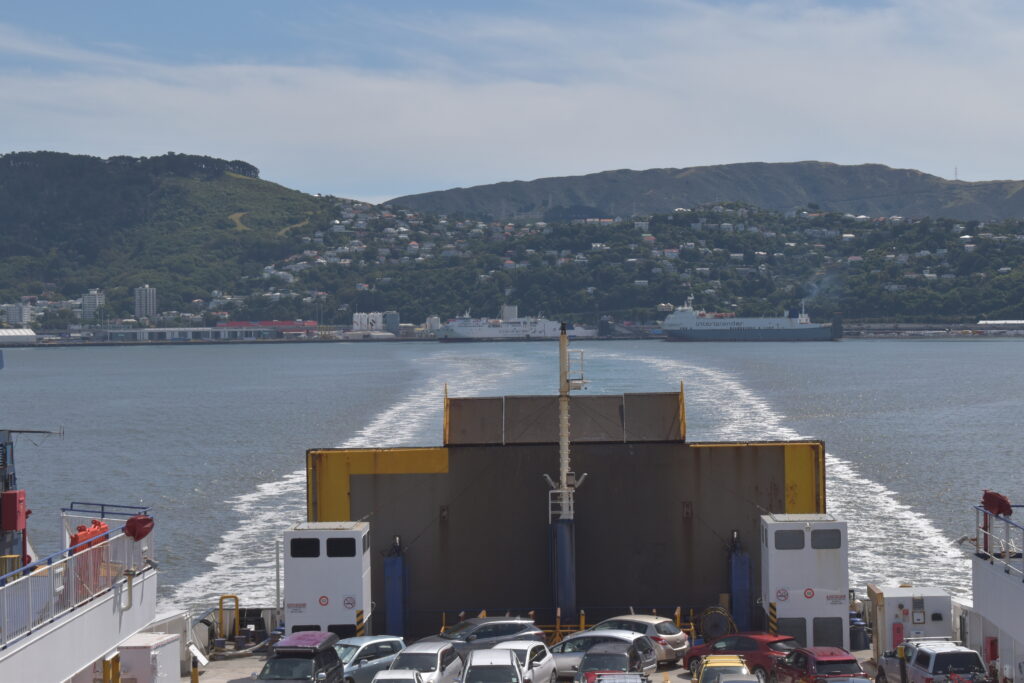 After we got underway I went to find the reception, in this case its just the shop attendant. I asked if a visit to the bridge would be possible throughout the voyage, a stern NO! was the answer. The guy said they had not been permitting visits to the bridge since the Covid-19. Alas not to be.
Lunch time had come, so down to the cafeteria for lunch.
After settling into the voyage it was not long before we arrived in the Tory Channel, a spectacular view second to none. Not long after we passed a large Cruise ship Ovation of the Seas.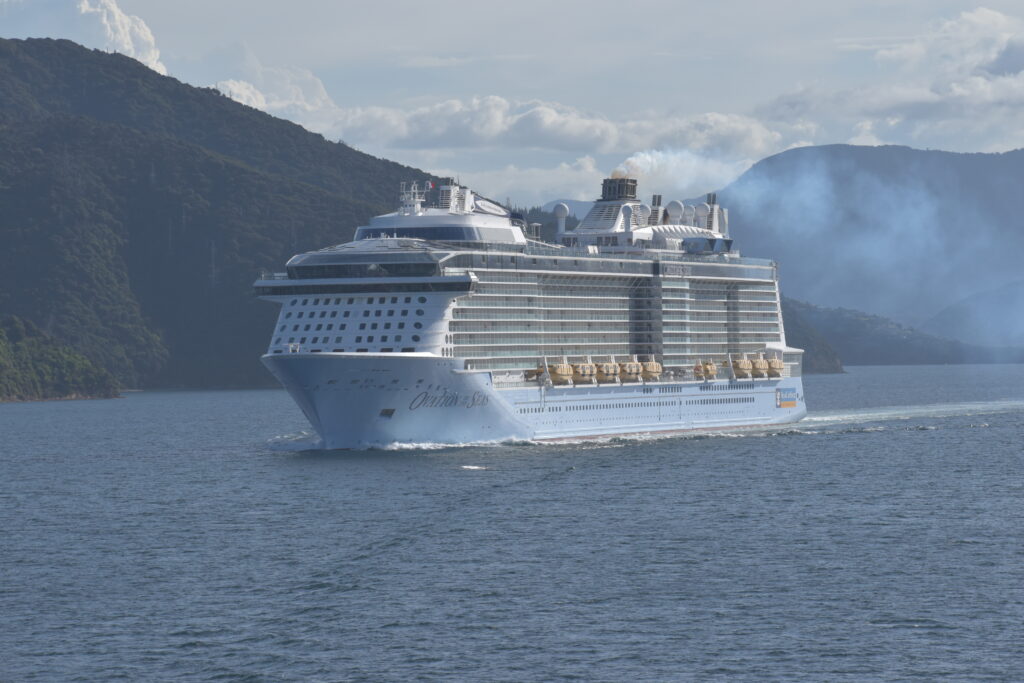 Just out of Picton we slowed to dead ahead and all but stopped. The Kaitaki was still on the berth loading. Soon after she departed and we were again at speed. We passed her just a few minutes out.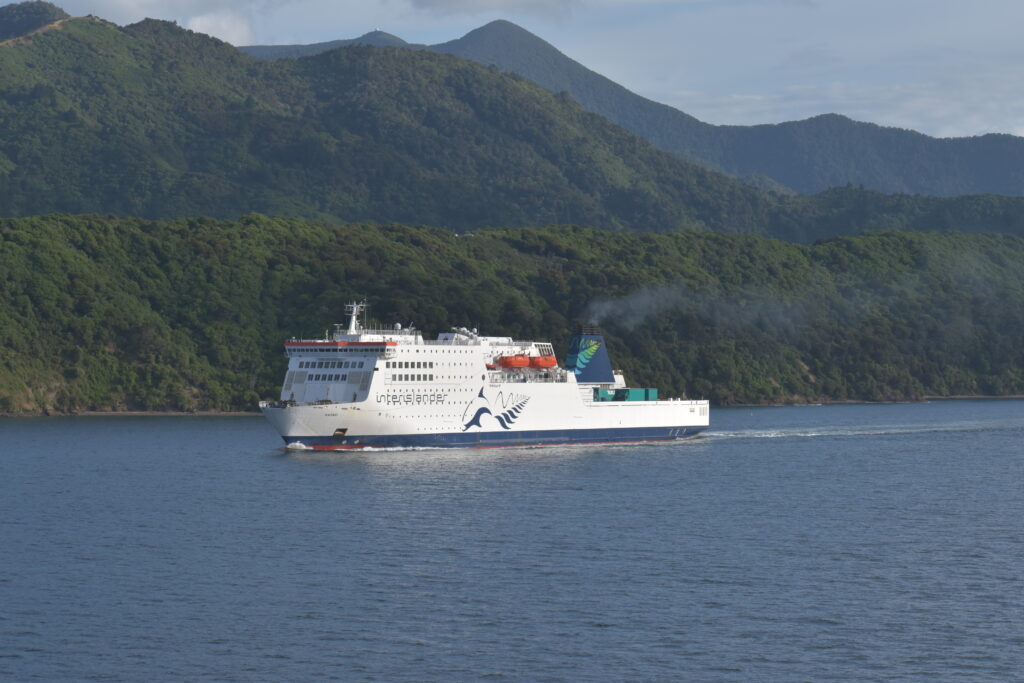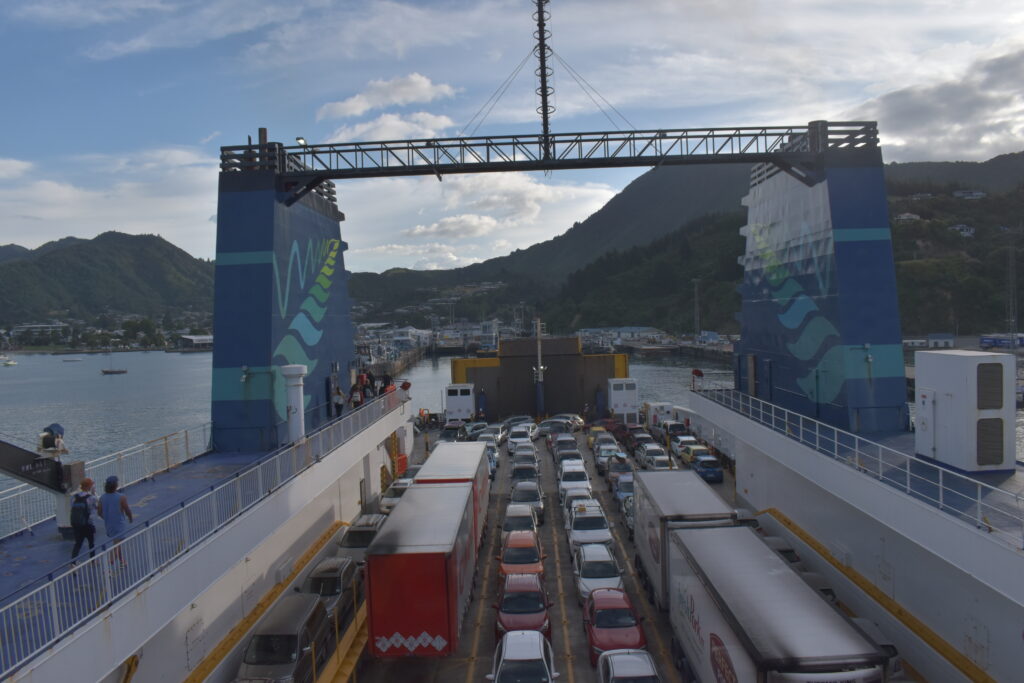 I was again in Picton, I quite like this place! I checked into my Motel in the town and headed back to the waterfront to capture the evening ferry movements.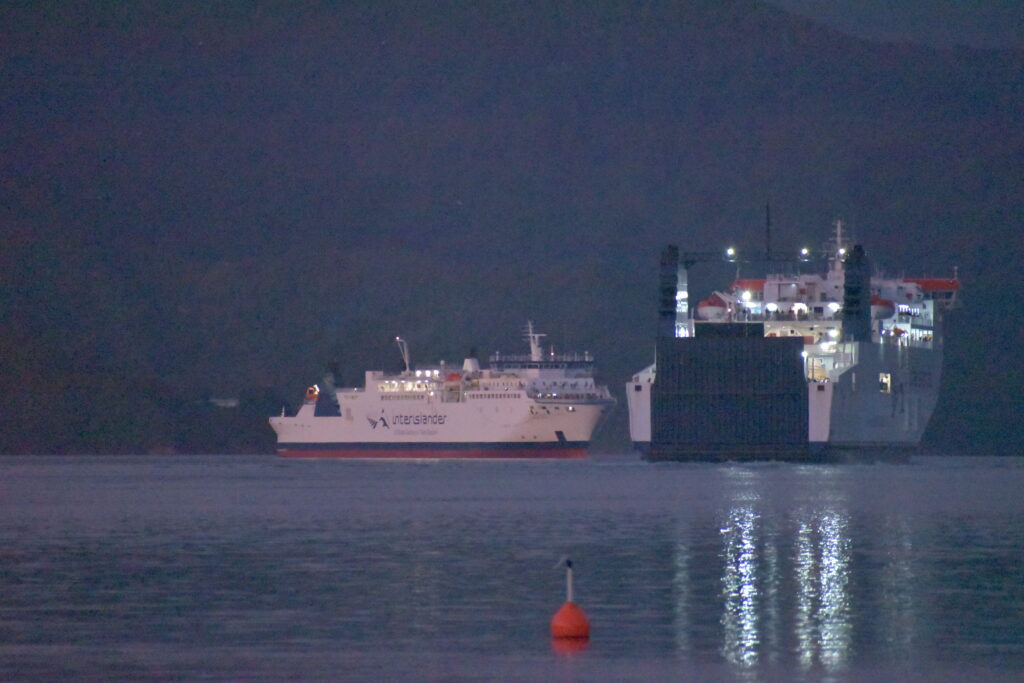 The following day, I had set aside with the main purpose to capture the ferry movements with my drone. Prior to coming to NZ I had researched some vantage spots. So having a car with me now I was able to go where I needed.
First was the Valentine at anchor.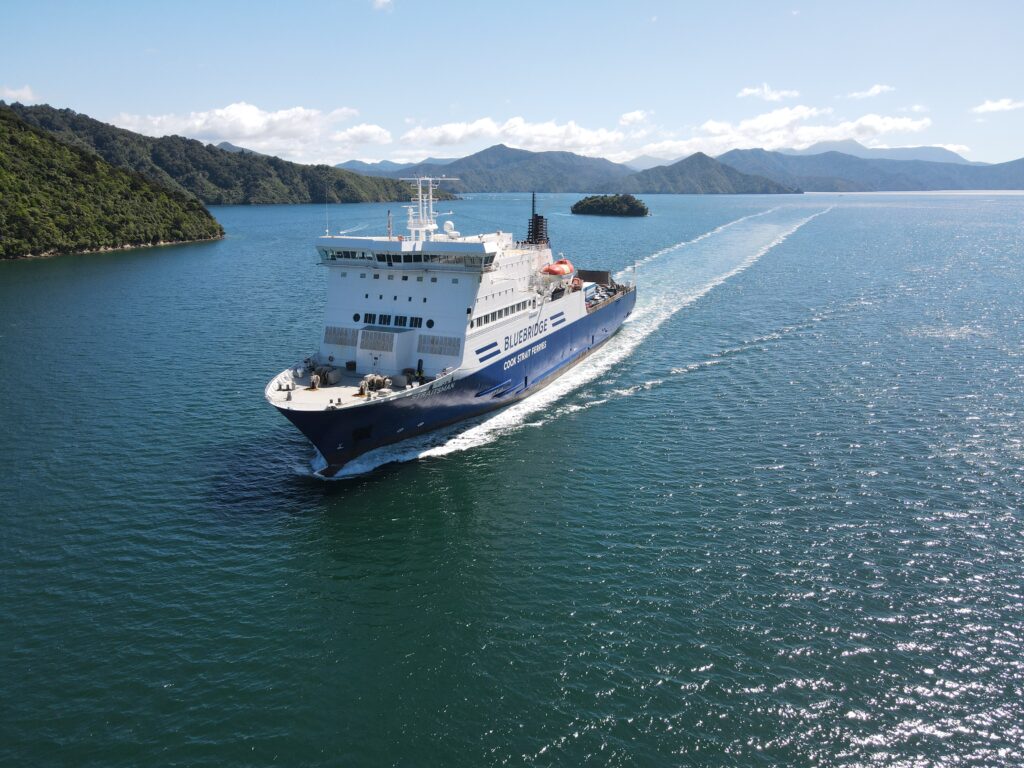 Then Kaiarahi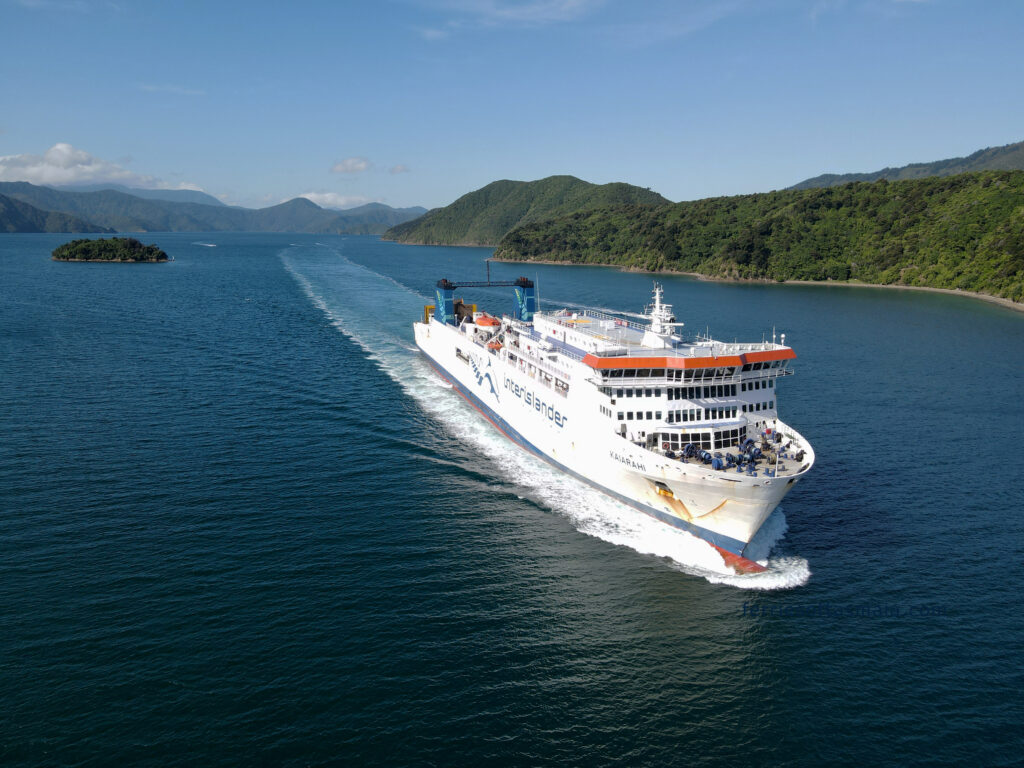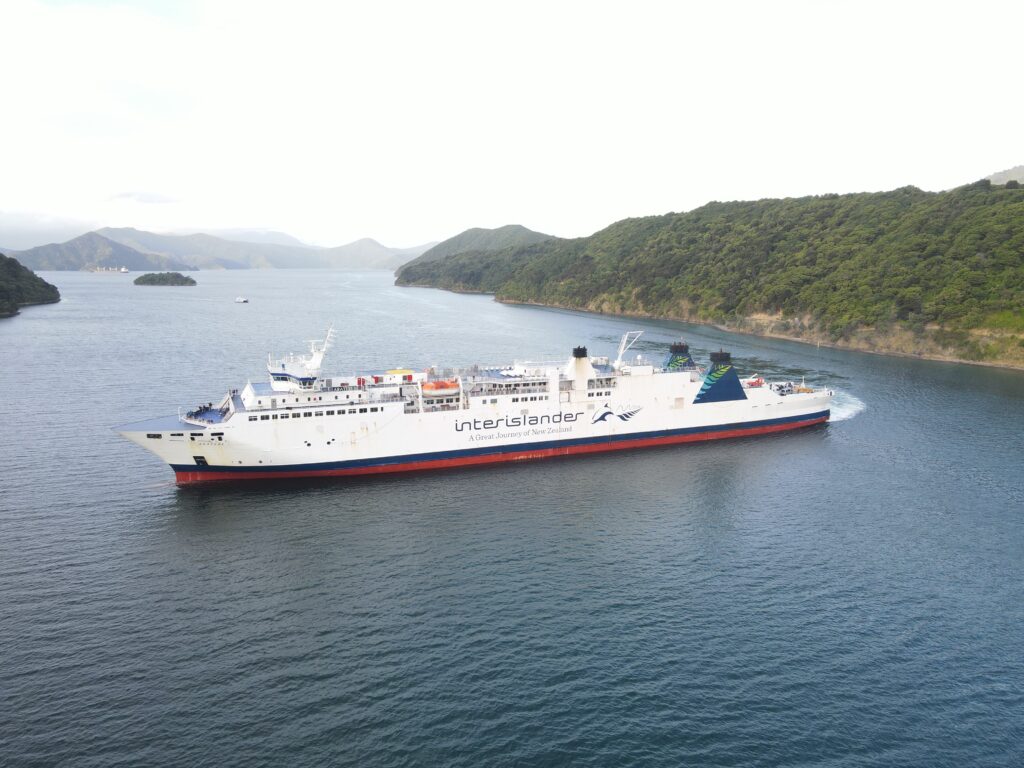 Next morning I waited around for Kaitaki to arrive, about midday, worth it!.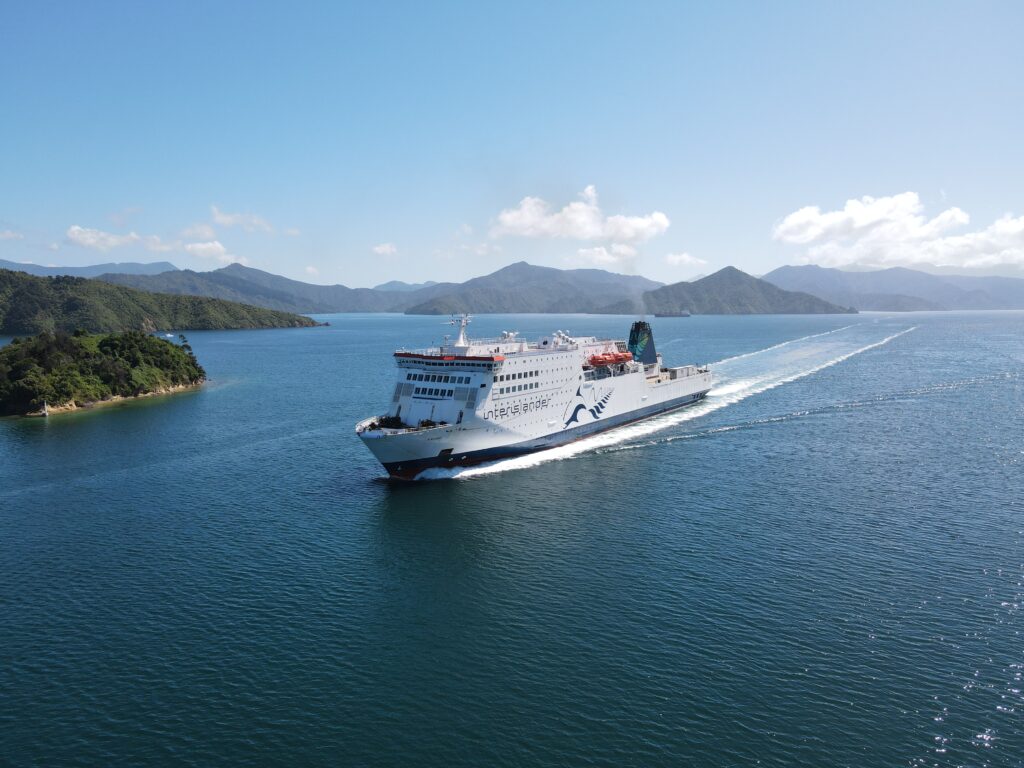 After getting the footage and stills of Kaitaki it was time to go and continue exploring New Zealand. I headed down the west coast of the south Island to Christchurch to stay for two nights.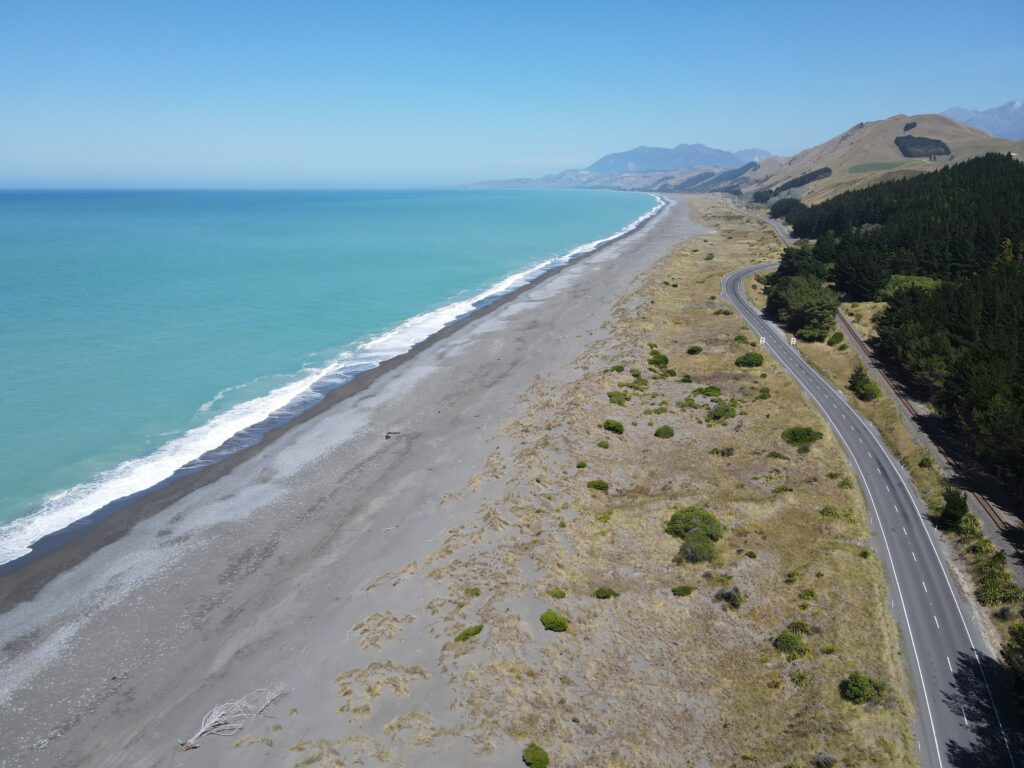 Next day in Christchurch I did the usual tourist things, took a tram ride, took a gondola ride and looked around. In the afternoon I went to Lyttelton, this was once the ferry port to the north Island (Wellington). Today its used by box ships and cruise ships. Today Celebrity Eclipse was in.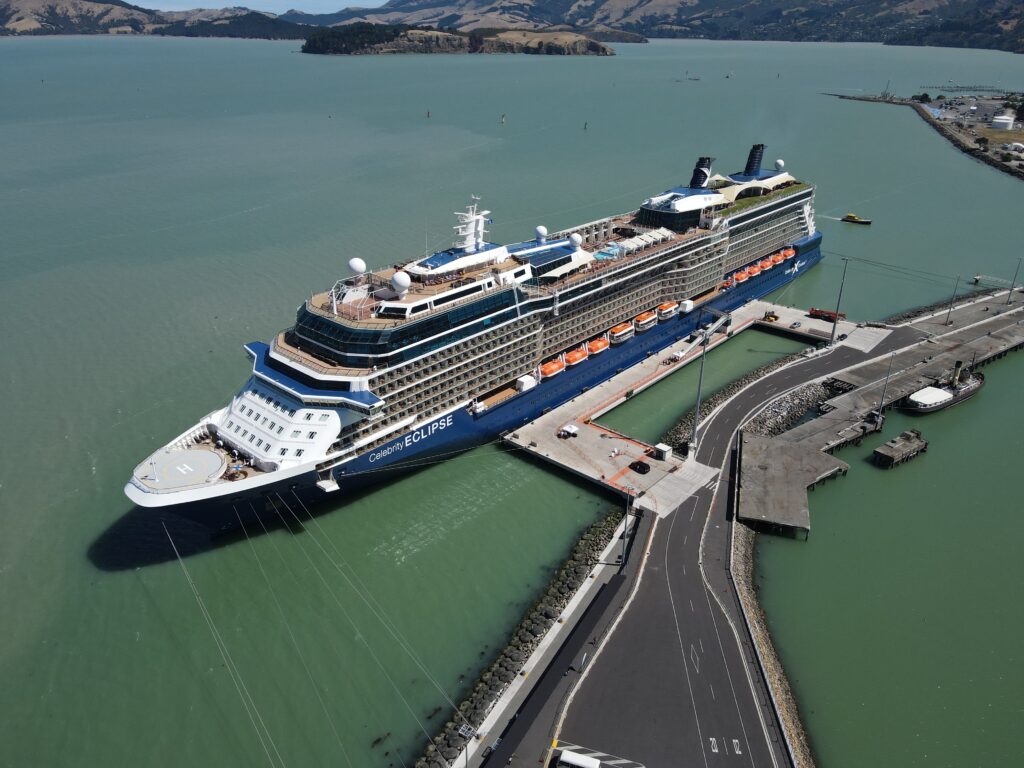 Christchurch is a nice little city, still the effects of the earthquake back in 2011 are very evident 12 years on rebuilding work is still happening. Most of the city is now new, even if it has an old look facade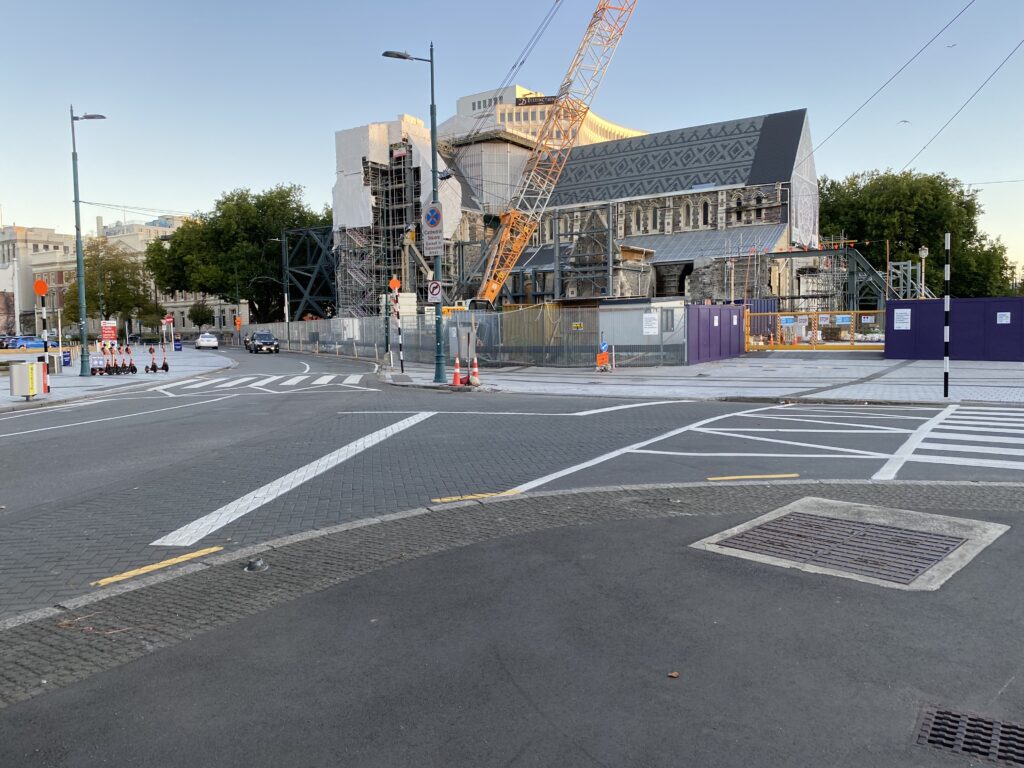 Next day I took off and headed for the south. It was a very rainy day, but it was on and off. I drove the 570km or so trip down to Invercargill. I stopped off in Dunedin for lunch, a nice place that I will defiantly add to my next visit.
I arrived in Invercargill ahead of time. So I went strait to a hardware shop, E. Hayes & Sons. You might ask why? Well this hardware shop houses the memorabilia of Burt Monroe and the film "The world's Fastest Indian". If you don't know it, Burt Monroe was a guy from Invercargill who against all odds got his modified Indian motorcycle to The Bonneville Salt Flats in northwestern Utah, running on a shoe string budget set the record for the world fastest Indian motor cycle. They made a film about it some years ago.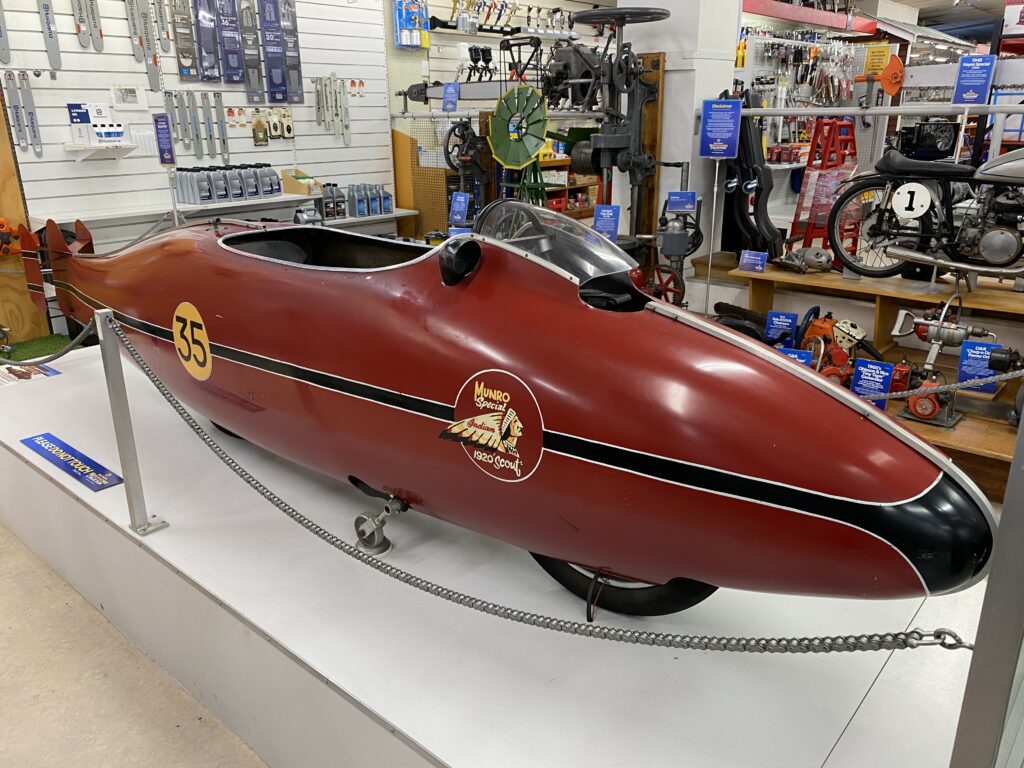 Next morning I was off again, heading north in my little Mazda Demio. Due to high new car sales tax in New Zealand, used cars imported from Japan are very popular. The rental I had was one of these.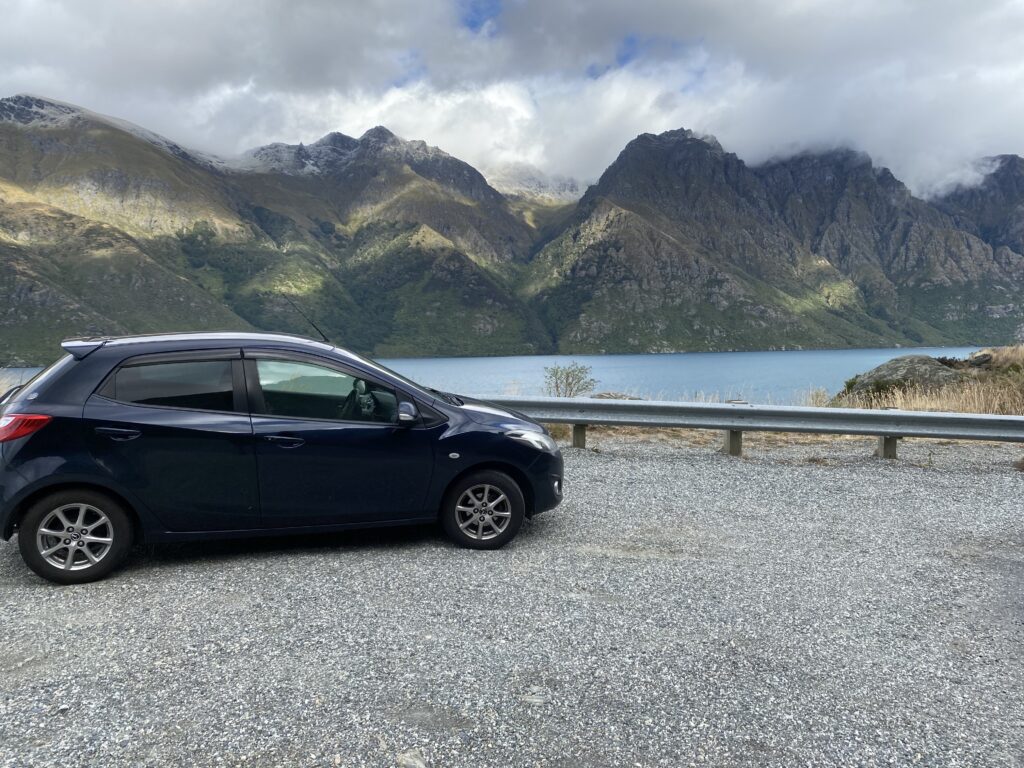 Today I was heading to Queenstown. The run up is about 2.5 hours. Some really nice scenery was seen along here. Queenstown is probably NZs busiest tourist spot, and consequently very expensive!

I spent a few hours here, but I had to keep pushing on, I had accommodation booked at Haast River, some hours on. Some absolutely spectacular views were seen that afternoon, and spectacular driving roads. Probably best of the trip.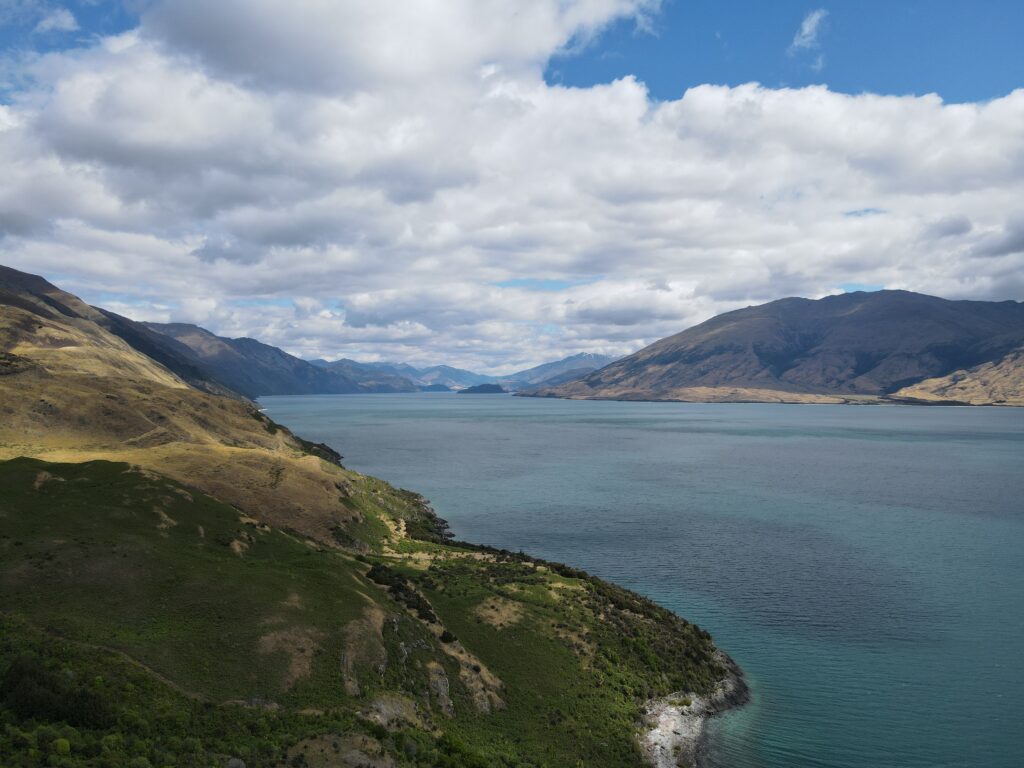 After burning the tyres off the little Mazda I arrived at Haast River. I stayed in a nice little motel and ate at the local pub. It's situated on, well the Haast River! From here the road heads directly north along the west coast.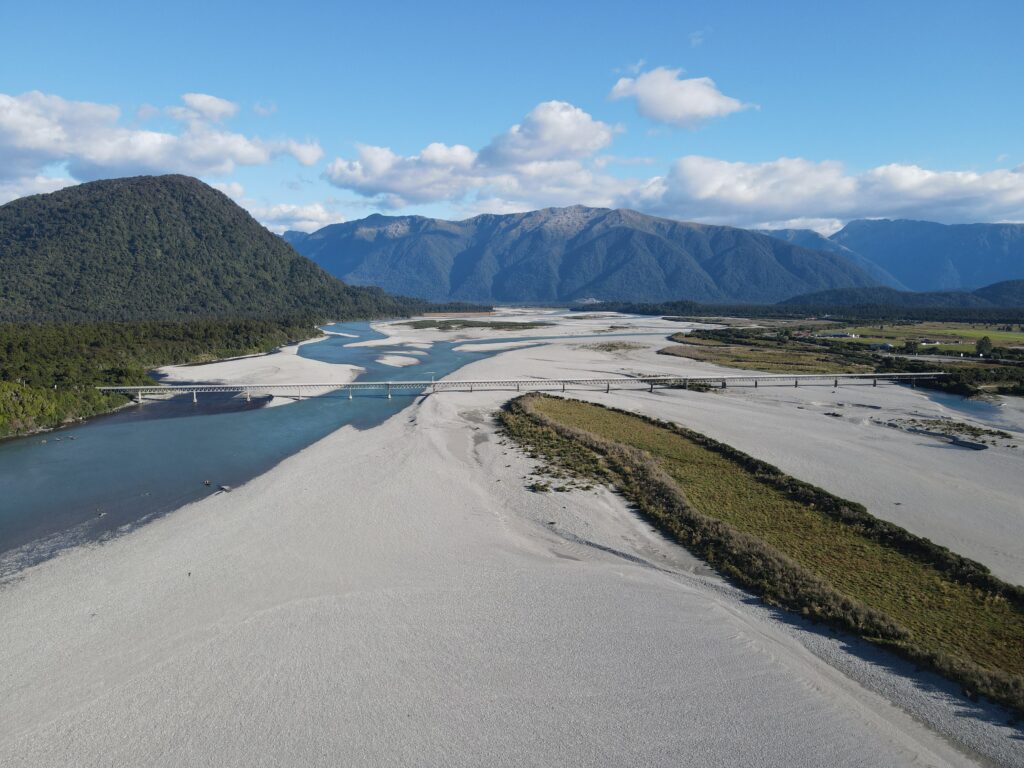 I departed early the next morning, just before sunrise before anyone else was on the road. Over 650km of winding roads today! I made really good time! First main stop was the Fox Glacier, where a bit of a walk was had. Really nice view!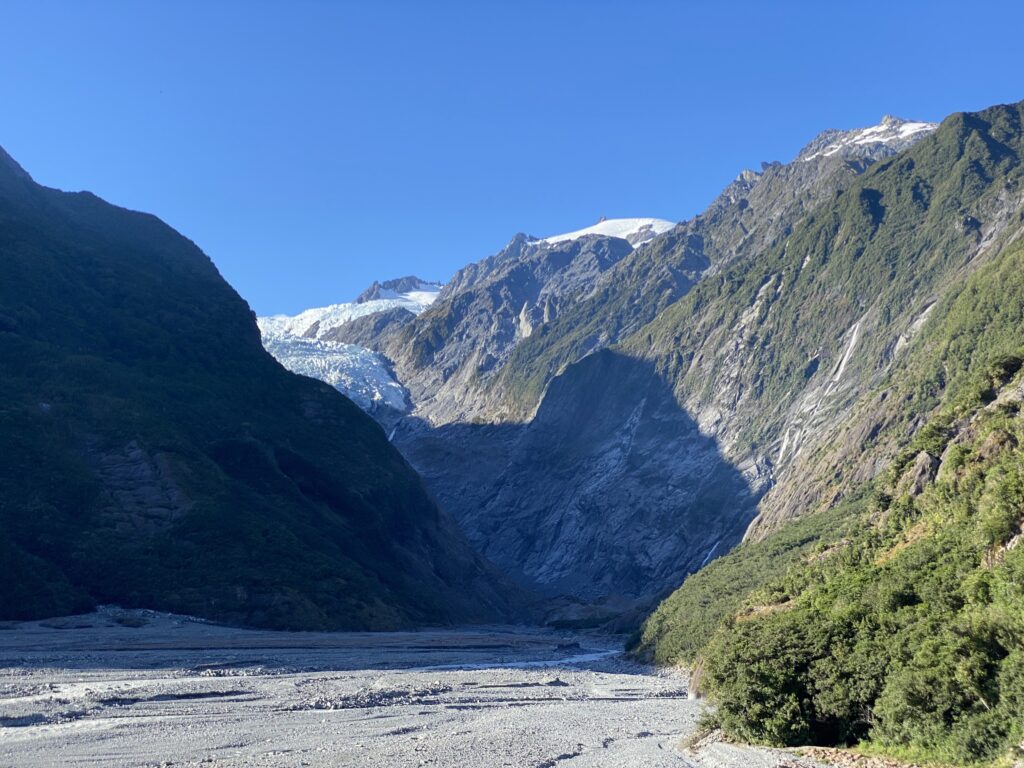 I made it to Greymouth by lunch time, had some nice Japanese food and explored the town on foot for an hour or so before hitting the road again. After a bit of a run with many photo stops along the way I made it to Westport.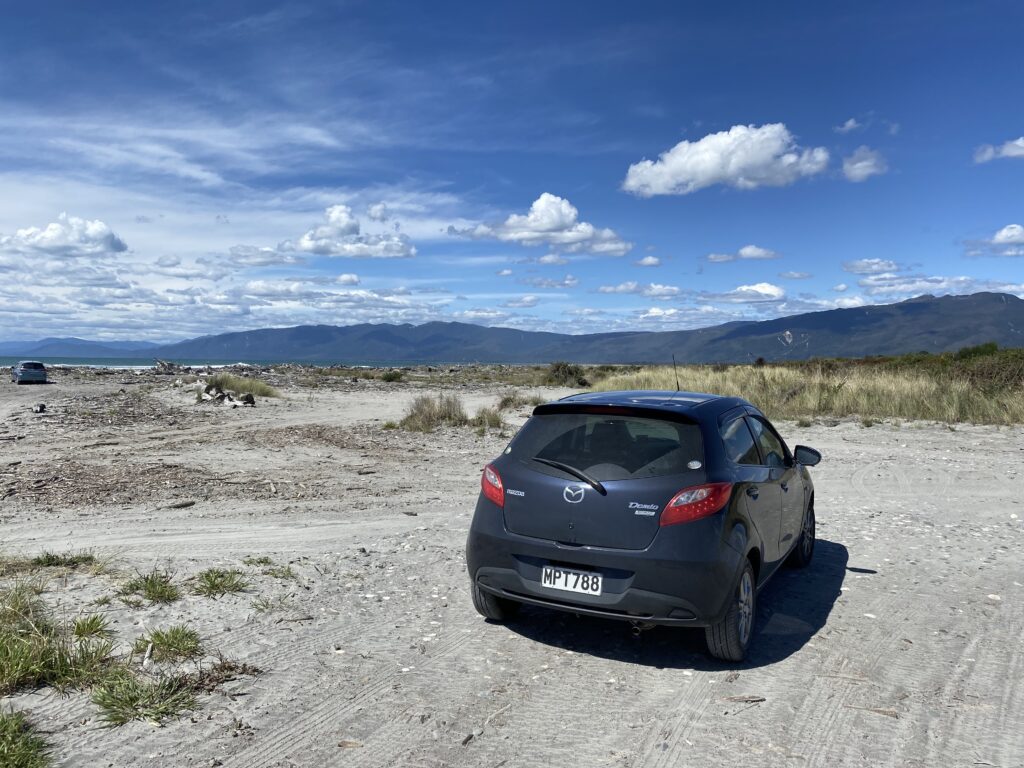 I had to keep going, still with 220km or so of winding roads until I would reach Nelson. I pushed hard and arrived before dark. A really fun day of driving, but a bit to far even for me, but I realized that before I went, just the constraints of time and wanting to see as much as possible.
After checking in at my motel and heading out in Nelson for Dinner and some walking around I took the little Mazda to a car wash, for a well deserved wash.

Next morning off again early to gt back to Picton for a morning crossing back to Wellington onboard Aratere, again.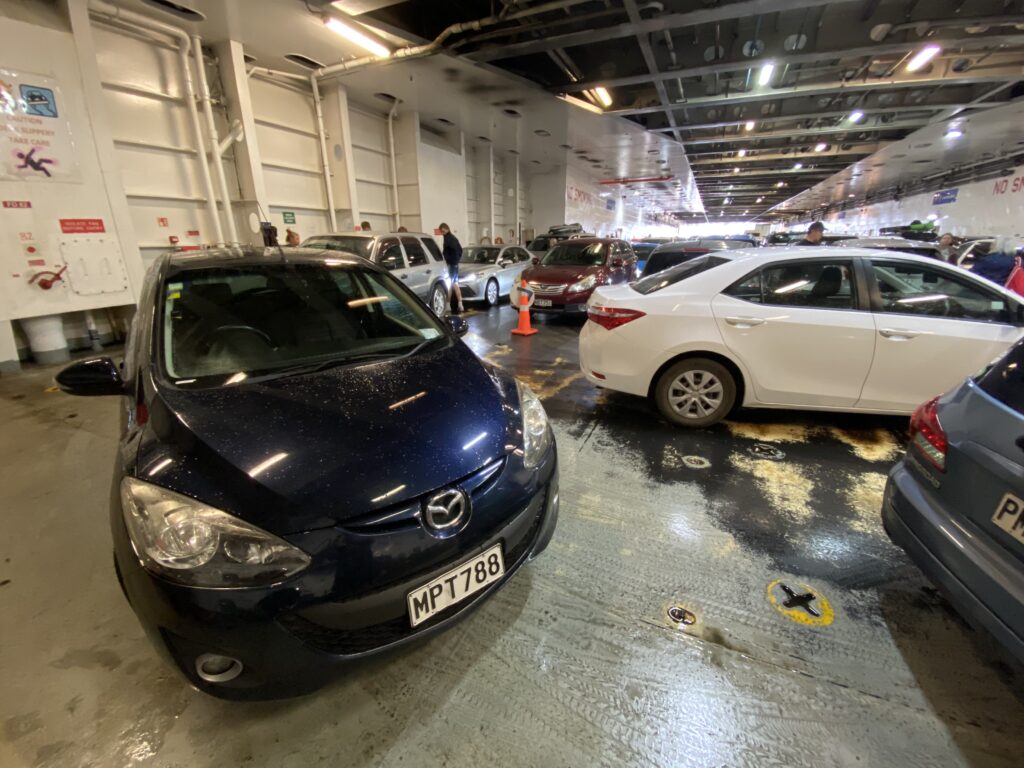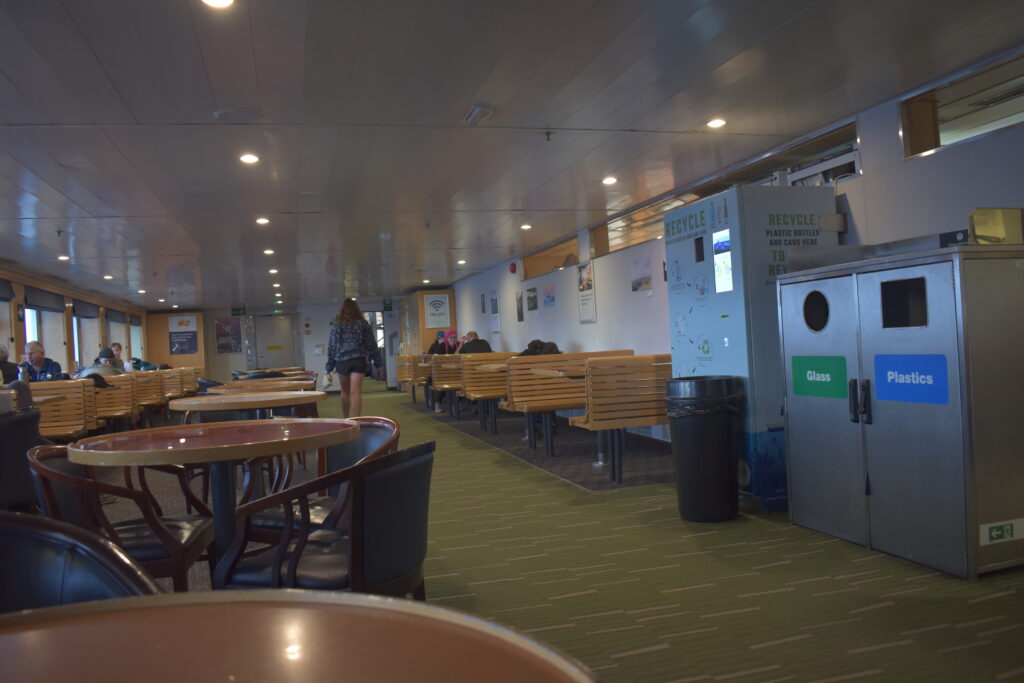 After boarding, (An hour or so late) I had lunch in the cafeteria.
I had arranged to make a visit to the bridge on today's crossing with my new found friends of Aratere. One of the guys found me in the forward lounge, and so up I went to the the Bridge again, but in daylight so I could make some photos.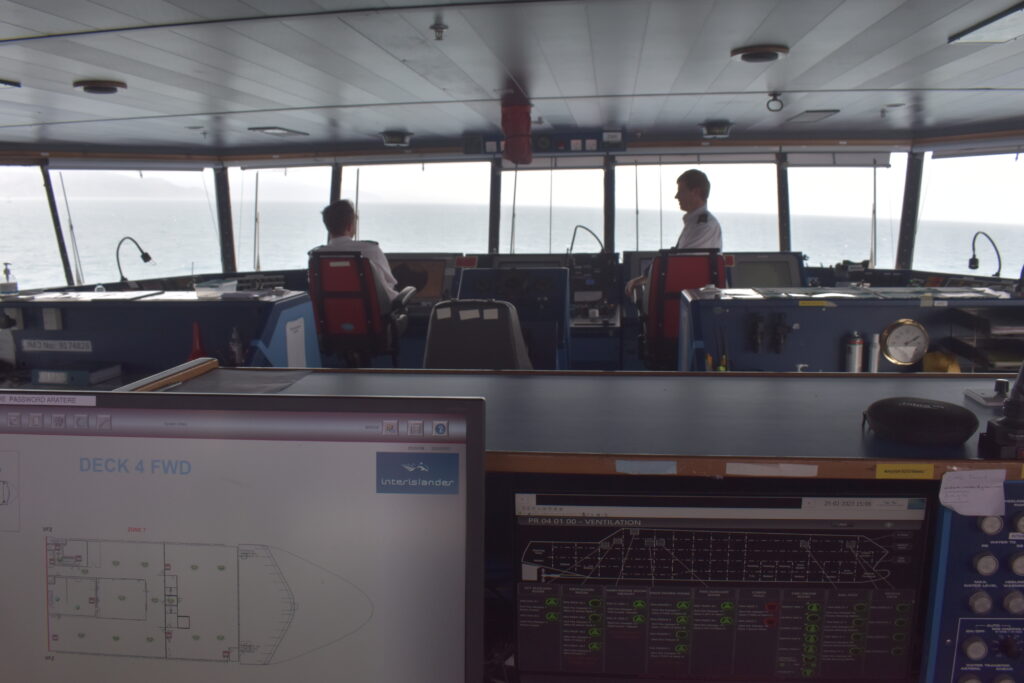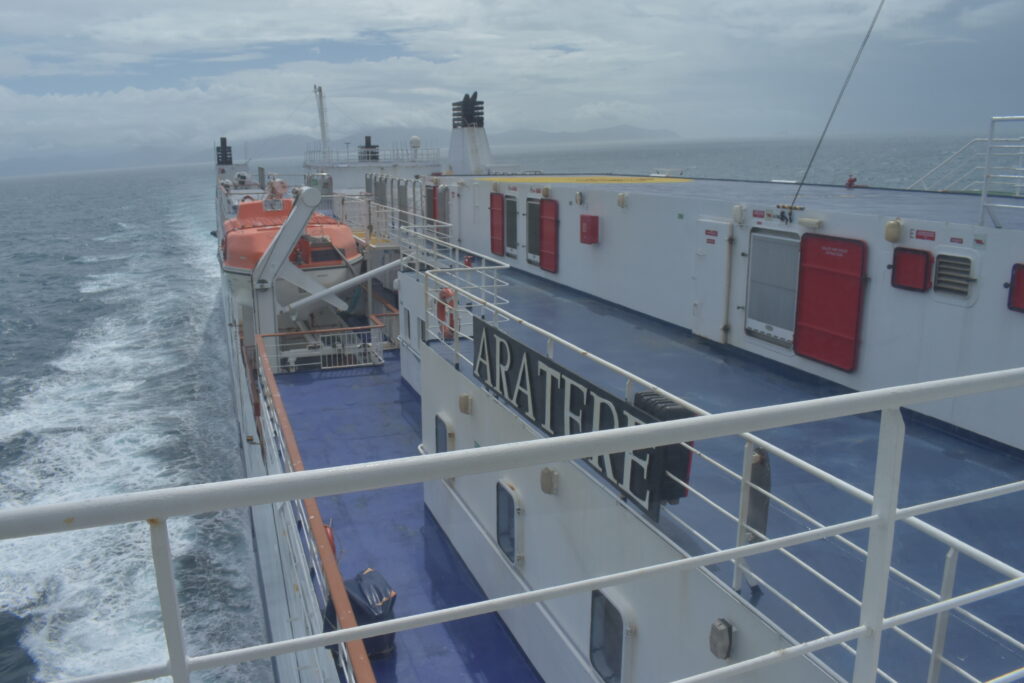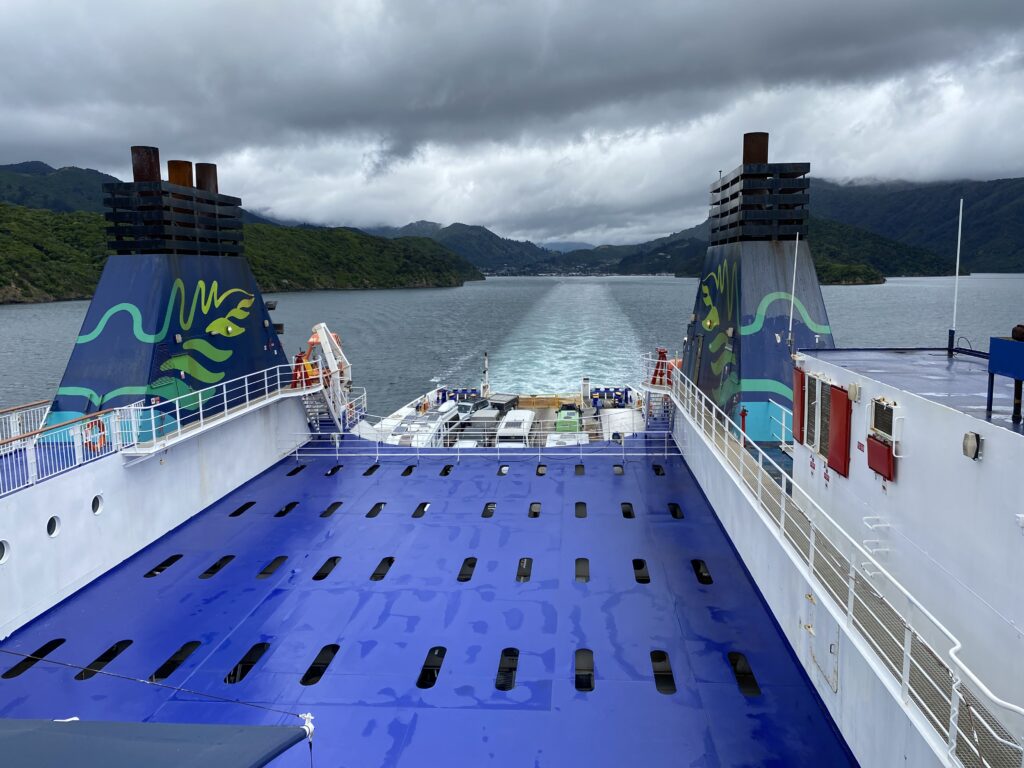 After picking up some souvenirs the arrival in Wellington . Trans Future 5 was unloading cars from Japan.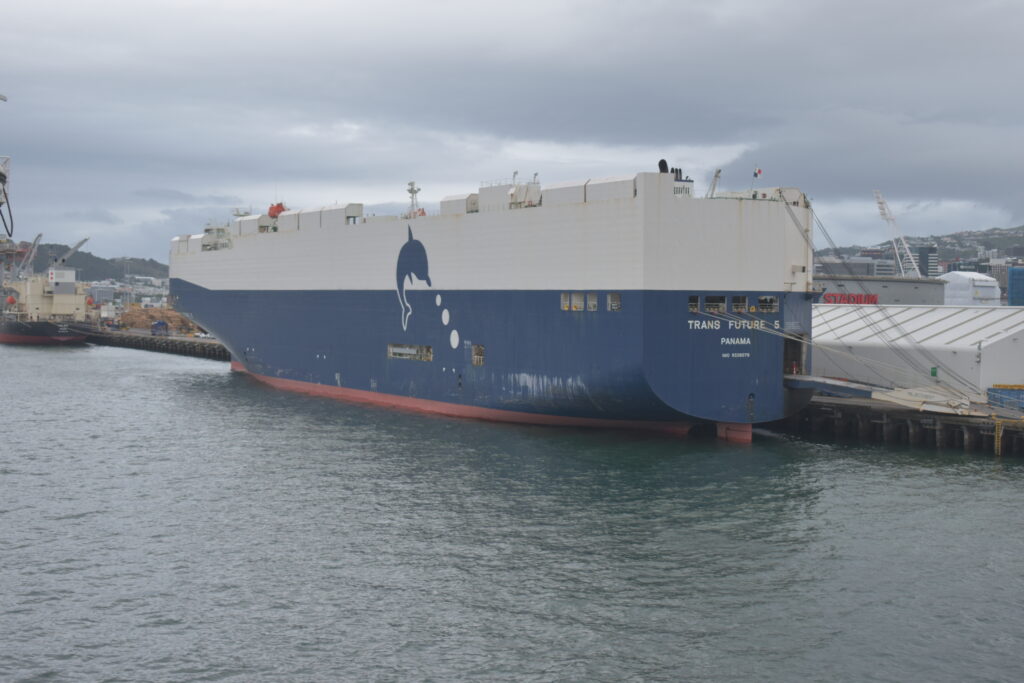 After saying farewell I disembarked in Wellington and had an afternoon run up to Palmerston North. Overnight stay then up the coast to New Plymouth, a much eraser day. Very nice along to way too!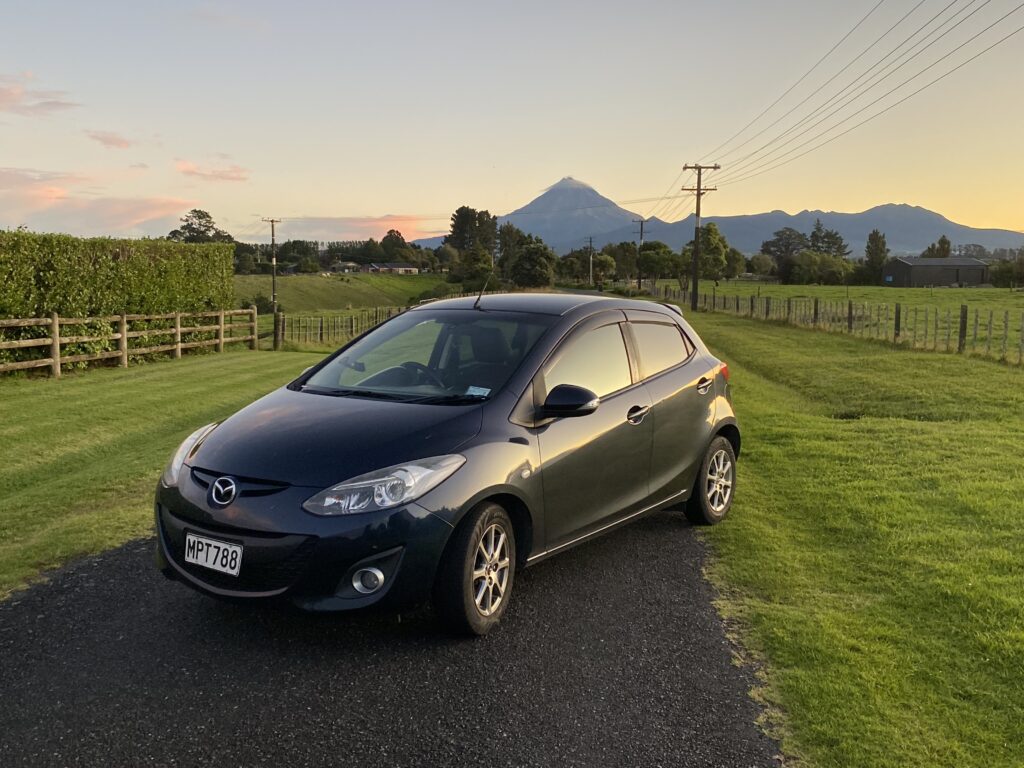 Stayed in a nice place in New Plymouth, next morning headed off to get the car back to Auckland. I was having lunch in Hamilton and realized I wouldn't make it back to Auckland on time to return the car running legal speeds. So gave them a call and they said they were happy for me to drop it off at a car park they use, as long as I was only going to be a while past drop off time. All dropped off and checked in for the final night of the tour I went walking In Auckland to find Dinner.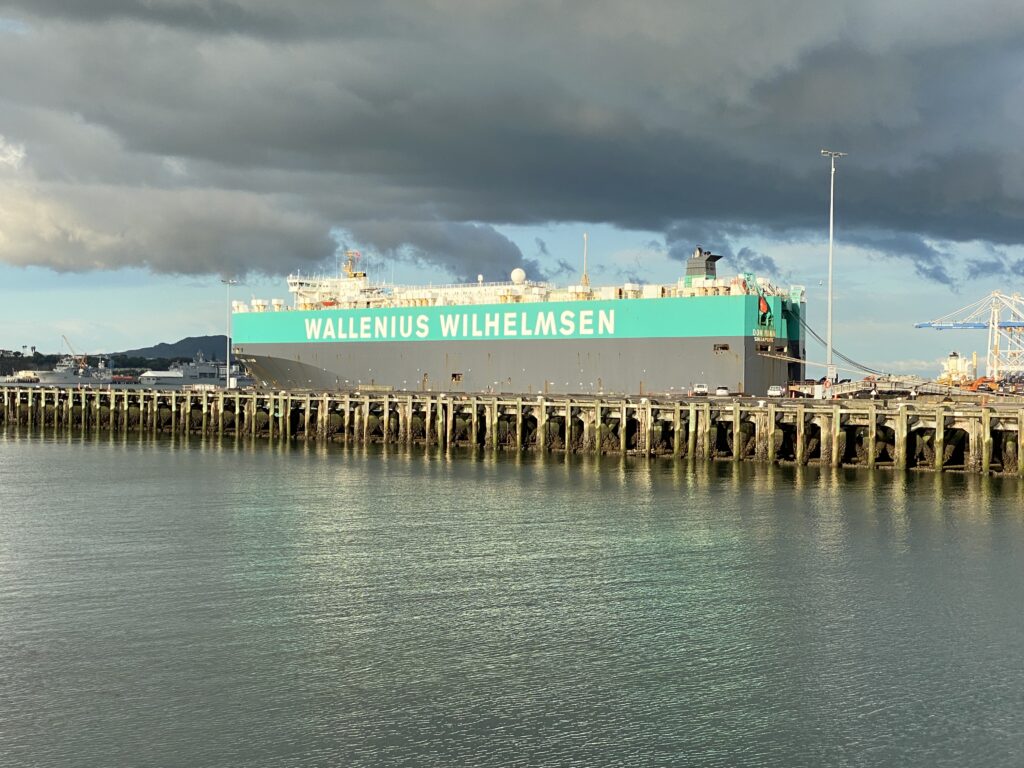 Next morning at 4am a shuttle bus called and picked me up out front of the hotel, off the the Airport for a 7:30am flight back to Queensland, arriving home around 1pm!

The next ferry adventure is already booked as I wright, a month in Japan during October, an opportunity to combine my love of ferries, Japanese cars and driving. Until then…